Creators and software developers will explore the expanding role of game engine technology in 3D content development.
The guest panelists for this year's Jon Peddie Research Siggraph Press Luncheon will bring broad technical and artistic perspective to the discussion theme of "Game Engines Rising."
Game Engines have moved beyond being only for games. These programs allow visual content creators to merge design, animation, storytelling, interactivity, look and feel, and lighting into one interactive environment.
"We expect to see the term 'game engine' gradually disappear for some of these tools; we're already seeing the development of specialized applications for the production of film and interactive content," says Dr. Jon Peddie, president of Jon Peddie Research and host of the annual Siggraph Press Luncheon.
Panelist for this year's luncheon:
Paul Doyle
Co-founder and Chief Executive, Fabric Software—As co-founder and chief executive, Paul Doyle is responsible for all aspects of running Fabric Software. Doyle has  more than 20 years experience in the media & entertainment software industry (Avid, Softimage, Autodesk). He has worked with film and games studios on a wide range of applications from animation tools to data pipeline and AI technologies, giving him a broad and deep understanding of customers' business challenges and opportunities. Fabric has been working on data pipeline tools for getting assets and data to – and from – real-time engine targets and see a uniformity of challenges in this space across multiple 3D industries.
Jean-Colas Prunier
Creative Director, Crytek—Prunier has worked in the VFX industry for more than 20 years. Inspired by a conference in which Toy Story director John Lasseter presented his early CG short films from Pixar, Prunier decided to join ExMachina, the foremost CG animation studio in Europe, in the early 90s. He then moved to the US to work on breakthrough hardware-accelerated 3D rendering technology before joining ILM and shortly afterwards Weta Digital New Zealand, where he worked on the Lord of the Rings trilogy, King Kong and Avatar, among other films.
Mark Schoennagel
Evangelist, Unity—Mark Schoennagel is a Unity Evangelist with a strong technical background in 3D animation for both film and video games. For nearly 20 years he was the lead evangelist for Softimage 3D, enjoying a front-row seat during the renaissance of the 3D industry. From witnessing the humble beginnings of the first ray-traced animations all the way through to today's blockbuster AAA game titles, he's seen it all. When not pushing the limits of 3D, Mark enjoys Formula 1, photography and VR… which of course is just more 3D.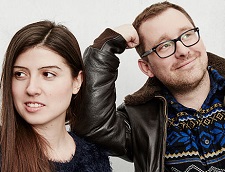 Milica Zec & Winslow Turner Porter III
Milica Zec, Director—Zec is a New York City-based film and virtual reality director, editor, and screenwriter. Her directorial debut in the virtual reality medium was a short narrative piece called, "Giant," which premiered at Sundance Film Festival New Frontier 2016. Since its premiere, "Giant" has been lauded as a seminal expression of the potential of virtual reality as a storytelling vehicle.
Zec has been collaborating for 9 years with the performance artist Marina Abramovic on numerous projects, including MoMA's "The Artist is Present" show, and the successful Kickstarter fundraising campaign for Marina Abramovic Institute, for which Zec directed and created ten videos.
Winslow Turner Porter III, Producer—Porter is a Brooklyn based director, producer and creative technologist, specializing in virtual reality and large-scale immersive experiential installations. Winslow has always been fascinated with the possibilities of how the intersection of art and technology can elevate storytelling. Winslow started out as a feature film editor, but pivoted into art/tech after Graduating from NYU Tisch's Interactive Telecommunications Program (ITP) in 2010. With over six years of experiential work under his belt, he has helped create interactive art experiences for Google, Delta, Diesel, Merrell and Wired, to name a few. Winslow also produced the Tribeca Film Festival Transmedia Award-winning documentary Clouds, among other acclaimed new media projects. Since 2015, Winslow has been a member of NEW INC, the New Museum's art, technology and design incubator program. Giant is Winslow's 5th virtual reality project.
The 2016 JPR Siggraph Luncheon will be Wednesday, July 27th at the Hilton Anaheim Hotel, adjacent to the Anaheim Convention Center. Doors open at 11:30 am. Members of the professional press and analyst corps attending Siggraph are invited to register at the JPR website.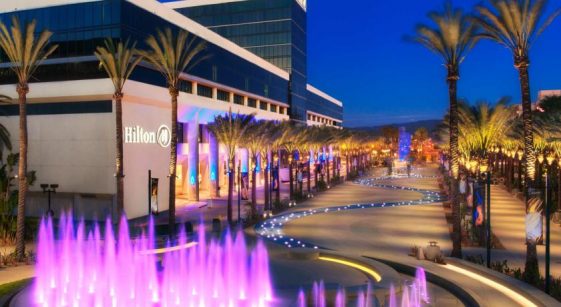 The Anaheim Hilton, site of the 2016 Jon Peddie Research Siggraph Press Luncheon.