At 9.8 megapixels, the yet-unnamed tablet would also make a great second monitor.
Last week at CES, Panasonic showed a prototype 4K 20-inch tablet. The 4K tablet is actually a 3840 x 2560 resolution display—9.83 megapixels, which is more pixels than a "4K" TV (at 8.85 Mpix) but a different aspect ratio (4K TV is 4096 x 2160). At these insane resolutions, do we really care? Its 230ppi pixel density isn't quite up there with the iPad's 264ppi.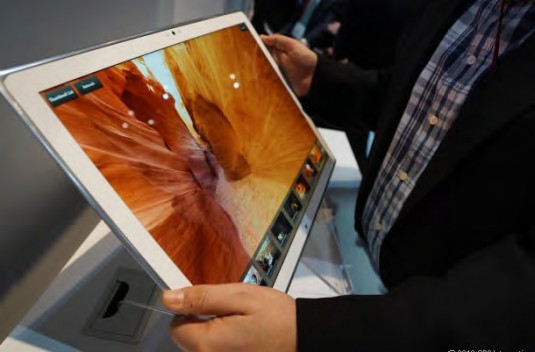 The tablet weighs 2.4 kg and has a 1.8 GHz Intel Core i5-3427U proces­sor, 4 GB of RAM—with room to take 16 GB in total—and a 128 GB SSD. Less than half an inch thick, the tablet includes an optical Anoto light pen sty­lus that allows you to navigate the Win­dows 8 tiled UI or touch-up photos on the device. Behind the IPS LCD screen is a Blue­tooth 4 radio and dual-band 802.11n connectivity. It can run on an internal battery; however, the backlighting for a 4K display and CPU will drain it in a mere two hours, Panasonic admitted.
This tablet is targeted at photogra­phers, designers, and architects, accord­ing to Panasonic. Panasonic says the 4K tablet is a prototype, so it doesn't have a model number or name yet; however, it could be in the market in 2013.
Our take
I'd like one of these.