Panasonic and Kopin partnership promises new options for VR.
There are people who are wandering the halls at CES so we don't have to. Among them are the people from VRScout who posted an early heads up on Panasonic's new VR glasses. The pitch from Panasonic is that these are the first glasses that eliminate the screen-door effect. They're not. Varjo's glasses don't have a hint of screen-door, and HP's Reverb headset based on Hololens 2 also has no discernable screen-door effect.
As it turns out, the glasses are pretty basic as you probably should have figured out from the accompanying image. You can have cool or you can have interactive, immersive VR, but so far cool VR is as elusive as defining cool.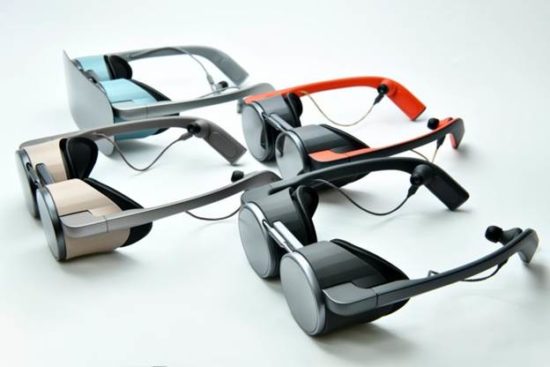 In fact, there is even some argument that they qualify as VR glasses at all. Commenter Robert Scobel weighed in on VRScout's post and posited these new glasses are not VR because they have no camera and therefore can't provide 6DOF. This is arguable. Most people will accept an immersive 3D view as VR. The discussion is worth keeping in mind for all the VR news coming out of CES and the question to ask is what is the actual application for the headset in question.
So, now let's talk about what these glasses do and what they might promise for the future. Panasonic has teamed with longtime micro-display maker Kopin for the OLED-based displays. Panasonic says the micro OLED panel design enables the lightweight design, which, when used with 5G connectivity, will be ideal for watching VR content including live sporting events, virtual tours, and travel experiences. We see these glasses as personal devices for content consumption. Glasses for the airplane if you will.
By showing these glasses at CES 2020, Panasonic seems more intent on putting a stake in the ground than selling a particular product.
In its release about the new glasses, Panasonic leaves hints. The company says that its audio and visual technologies have come into play in the design of this device including Technics audio and optical technologies used to develop Lumix digital cameras enabling the company to "achieve compact and lightweight VR glasses offering high-quality images and optimal sound."
They do not state the actual resolution of the glasses, at least, as far as we could find.
More to come
Meanwhile, at CES, Kopin also showed new technology for high-resolution micro-displays, also showed its new display designs that include its new double-stack OLEDs which are high resolution, brighter, and last longer. The new double-stack technology is being used for 2K and 720p displays.
Kopin's headliner is a new 1.3-inch 2560 × 2560 display for XR devices. Kopin says these new displays are the largest color micro OLED in the world and also offer the highest resolution. It says the double-stack OLED design enables brightness higher than 1000 nits, and a contrast ratio of more than 10,000:1, color fidelity of 70% of NTSC. The display was developed in conjunction with Panasonic and Lakeside Optoelectronic Technology Company.
Kopin says that their stacked OLED design enables carriers (electrons-holes) to pass through the OLEDs and generate photons twice for increased efficiency, more brightness, lower power consumption, and longer lifetime. The new display technology includes a patented backplane design that delivers lower power consumption and faster framerate.
Kopin is showing this and two other displays at a whisper suite at the Mirage. The other displays are 0.99-inch 2K, 2048 × 2048 display, and a high brightness green (more than 20,000 nits) 720p, 1280 × 720, 0.49-inch display with very low, 130 mW, power consumption.
Like the 1.3-inch display, the 2K display achieves brightness higher than 1000 nits, 10,000:1 contrast ratio and 70% of NTSC.
The company quotes Kopin CEO Dr. John C.C. Fan saying, "To date, the applications for OLED micro-displays have been limited by the performance and the supply constraints, but we believe Kopin's Lightning backplane technology and the emergence of high-volume OLED manufacturing facilities are going to greatly expand the applications for OLED micro-displays."
To VR or not VR
So, the mini-controversy around Panasonic's new glasses highlights the options for headset makers. Some companies are betting on immersive headsets for passive experiences exploring 3D worlds, watching movies and TV, etc. The jury is still out on the practicality of immersive VR for games and consumer apps anyway.
Panasonic is thinking about the entertainment side of the technology and so in this product, it's exploring how far it can push the envelope for comfort and audio and get better-than-expected display quality. The company's continued work with Kopin suggests the company has plans for more sophisticated devices in the future.
What do we think?
High tech history is littered with the corpses of personal viewing devices. There is renewed enthusiasm for the segment and the ability of Panasonic and Kopin to deliver a lightweight and comfortable headset makes these things easier to wear, but the question is will people wear them. The bigger problem isn't so much wearability, as it is vulnerability at least for right now. It doesn't seem like people will like being cut off from the world in public places, even in airplanes and it's not even certain that they should.
All that said, the work Kopin and Panasonic are doing is worth keeping an eye on. As technology is improved and refined in the way that Kopin is doggedly doing, the applications tend to come together. Industrial VR/AR is a growing segment and will grow faster with better glasses. OLED in consumer glasses is also very promising.