Media and graphics technologists share their insights on virtualization at the annual JPR Siggraph luncheon. For most in attendance, "full speed ahead" was not fast enough.
[Editor's Note: Need some background on the topic? Here's a link to Wikipedia on Virtualization.]
Jon Peddie Research recently conducted a study on virtualization in the graphics industry, to gauge interest in the fast-rising technology. As part of the study, JPR did a survey of existing users of various forms of professional graphics software. Of the 2700 respondents, 93% said they were either "very interested," "interested," or "already doing it." "Ninety-three percent is an absolutely astronomical percentage," of positive responses, noted Dr. Jon Peddie.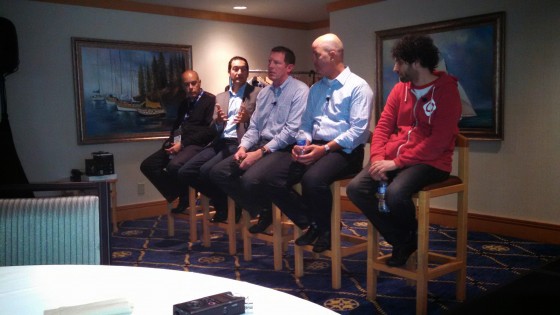 Peddie presented his findings at the Siggraph 2014 JPR Press Luncheon, the 14th year JPR has sponsored the event that brings together graphics technologists and the technical press. "Virtualization is huge; the press and analysts need to watch this closely," added Peddie. "This is the most extraordinary development we've seen in years."
What about the 7% who did not express interest in virtualization? Peddie said the great majority cited lack of IT resources and support staff as the primary reason they shied away from virtualization. Of those citing a positive attitude, 54% said they thought virtualization would "improve productivity," while 32% said they thought virtualization would "save money."
Earlier this year JPR estimated the virtualization market will generate $1.8 billion in sales by 2018. "I now think this is a conservative estimate," Peddie said.
The five panelists at the luncheon offered their own take on the power of virtualization for graphics. Industrial Light and Magic is now part of the Disney family, following the acquisition of most companies owned by George Lucas. ILM's Kevin Clark says they use both virtualization and remote computing. For a recent project they needed graphic artists and animators in the San Francisco Bay Area, but could not find enough to meet demand. So ILM rented a building in Los Angeles, installed zero-client computer stations, and hired LA-based artists supported by the IT infrastructure in the Bay Area. "We worry about efficiency," Clark said, noting how their efficient use of IT resources made joining the Disney family easier than might have been expected.
Otoy is a start-up software developer juggling several projects, all aimed at maximizing compute resources by harnessing the power of graphics processing units (GPUs) for "intense" computations activities including rendering. Otoy CEO Jules Urbach said his company's newest product is X.IO, which packages desktop applications for streaming. It can take advantage of multiple GPUs from both Nvidia and AMD to spread OpenCL jobs over multiple computers. "The future is apps as services, to mix and match as needed," said Urbach. "Monetization [of software] will be very different."
Lincoln Wallen says DreamWorks approaches IT from a "Compute- and Data-as-a-Service mindset; scaling, productivity, and savings are a fact for us." DreamWorks uses many software products it creates in-house. "Now we can architect software with virtualization in mind." Wallen says DreamWorks animation projects are getting more complicated "but now they are also cheaper to make." DreamWorks puts a strong focus on "getting compute off the workstation," so that workloads are not constrained by the limits of individual workstations.
Pixar also uses virtualization, but sees it as a tool to provide additional IT flexibility during projects. "We have some success using Amazon as a provider," says John Kirkman, "but we are not getting rid of our in-house server farm." Kirkman notes there is considerable utility in having a virtualized server farm on hand. "Our rendering farm is 98% efficient; our workstations are 10% efficient." Of Pixar's 800 workstation users, almost half have a second workstation at hand, and that second workstation is "way underutilized," notes Kirkman.
Habib Zargarpour recently became the head of Microsoft Studios, and says his viewpoint on virtualization comes in large part from the many artists across the globe working on Microsoft Xbox games, artists who are independent, not employees. "We do massive collaboration, and we are really feeling the need for better connections and less travel." Microsoft Studios plans to aggressively invest in virtualization in the coming months.
What do we think?
The JPR panel featured five technology leaders who all work from the assumption that virtualization is a powerful IT trend that can save money, streamline processes, and increase both human and computer efficiency. But these five companies vary in how they have implemented virtualization. The general consensus was that full speed ahead is not fast enough.
For most companies, efficiency sounds nice but in the end it comes down to dollars.  DreamWorks' Wallen offered the most interesting insight of the day. "We examined workflows; we did tests at scale [on using virtualization technology]." Wallen said they proved the processes could save money, so he got the green light to constrain expenditures to force adoption. "We want one-half of efficiency going on the screen and one-half on the bottom line."