Based on the Apache Lucene search library, Discover Innovator from Northridge Software brings Google-like queries to the growing PLM suite.
A sophisticated textual search engine is the latest solution in the growing list of add-in solutions to the Aras Innovator open source PLM suite. The release is one more sign the original goal in releasing Aras Innovator as open source software is paying off.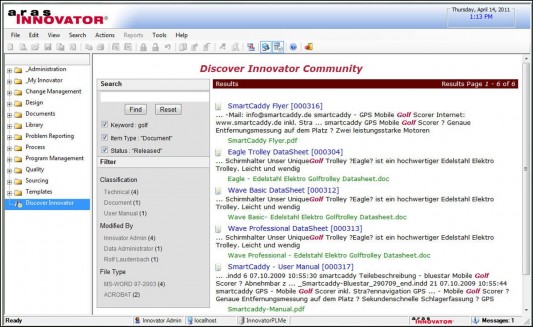 Discover Innovator Community Edition from Northridge Software is a search solution based on the Apache Lucene open source search engine. Discover Innovator can search the full range of complex data sets managed in Aras Innovator, as well as information stored in other locations across the enterprise, including Intranet sites, SharePoint, file shares and more.
Part of the motivation for Discover Innovator was to provide fast access to product data for people in a company who are not regular users of Aras Innovator. Searches are performed using a familiar Google-like user interface and results are presented in a shopping cart-like view with the ability to drill-down into results.
Key features include:
Find documents by context
Include text from item properties, include CAD files
Weighted order of results
Drill-down into results
Expand search to include like terms
Capable of handling large document volume.
The free Community Edition is now available; Northridge plans to ship a separate Enterprise Edition with additional feature as a commercial product later this year.
What we think
We were surprised to learn recently that most new installations of Aras are in Fortune 500 companies as opposed to mid-market or SMB manufacturers. It seems Aras is the new David in PLM Land, picking up stones and naming them after the Goliaths in product lifecycle management as they reload the sling.
Aras Innovator was first released in 2000 using the latest IT innovations and the well-established Microsoft enterprise stack. But it got lost in the shuffle after the dotcom collapse. Despite pleasing a few key customers, sales were sluggish until the company decided to make a radical shift. The company fired the sales staff and released Aras Innovator as open source, looking to capitalize on what they saw as the long-term trend of growth for open source enterprise solutions. In an unusual move, Microsoft embraced the open source Aras, giving it special treatment usually reserved for the largest proprietary vendors.
Growth was slow at first, but is now picking up momentum, in the rolling snowball fashion normal for good open source products. Without releasing revenue numbers, Aras says it grew by 100% in 2009 and 103% in 2010. Current large customers include Xerox, Motorola, Rolls-Royce, Freudenberg, Lockheed Martin and Ingersoll Rand.
Many users have never paid a dime to Aras, but there are enough who subscribe to the support and training package to make the company profitable. Based in Andover, Massachusetts, the company now has a second development and support office in Switzerland. It went on a hiring spree earlier this year, beefing up marketing and operations. The company has some angel and VC funding but is relying on revenue to fund future growth.
Lacking a sales force, Aras has to speak through its users and the quality of its product. Earlier this year Aras announced a version of the CAD geometry search engine ShapeSpace was also available for Aras users. There are now more than 100 products for Aras Innovator created outside the company. As an open source provider, Aras Corp. encourages development of both free and commercial add-on products and third-party support to extend the network effect that is its lifeblood.