The browser is good enough on the desktop, but CAD works better on mobile devices with a dedicated app.
CAD startup Onshape has released its second dedicated mobile app this week with the launch of the Onshape for Android app in the Google Play store. As with its sibling app previously released for iOS, Onshape for Android brings the full feature set of Onshape 3D mechanical modeling to mobile devices.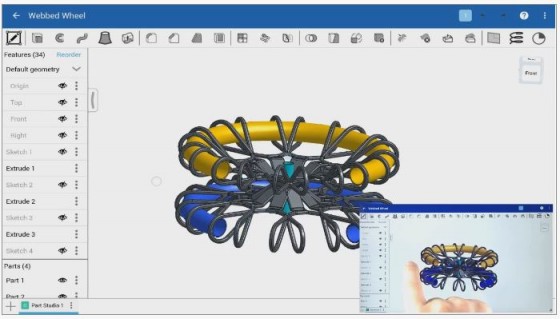 "Onshape for Android is not just a viewer," stresses Onshape's Matthew Stein. "As with our iOS app, this is the full professional suite of CAD tools that truly allows engineers to untether from their workstations, and create and edit professional 3D models whenever and wherever inspiration strikes."
To work on mobile devices, Onshape had to replace keyboard and mouse interactions. In the Android and iOS apps, every CAD command and action is controlled with a swipe of the finger. "When we first started, a lot of people were skeptical that CAD could be done on such a small device," says Ravi Reddy, team lead for Onshape Mobile. "We solved the precision selection problem and made sketching easy with touch-based finger offset tools. We added intuitive lock and unlock modes to help with pan, zoom, and rotate operations for sketching and assemblies."
What do we think?
3D CAD on the cloud would only be a novelty if all it could do was make models. Onshape's biggest differentiator is document management and the ability to share files globally in real time. To fully realize the dream required working at 100% effectiveness on a smartphone or a tablet. Because Onshape is free to use (the number of private models is limited in a free account), now anyone can try it out and use it, even if their only connection to the Internet is a smart phone.