$2.64 billion in sales, $838 million profit-up 44% from last quarter.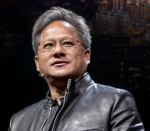 Nvidia reported record revenue for the third quarter ended October 29, 2017, of $2.64 billion, up 32% from $2.00 billion a year earlier, and up 18% from $2.23 billion in the previous quarter, with growth across all its platforms.
The company's GPU business revenue was $2.22 billion, up 31% from a year earlier and up 17% sequentially, which the company claimed was led by strength across all platforms, including datacenter, gaming, and professional visualization platforms. GeForce GPU gaming results were led by strong adoption of Volta in the datacenter, and Pascal-based GeForce GTX gaming platforms, said the company.
"Industries across the world are accelerating their adoption of AI. Our Volta GPU has been embraced by every major internet and cloud service provider and computer maker."
Datacenter (including Tesla, GRID and DGX) revenue was $501 million, up 109% year-on-year and up 20% sequentially. The datacenter revenue, said Nvidia, reflects shipments of its Volta GPU and V100 platform. Datacenter growth was fueled by demand from cloud customers for deep learning training and GPU computing, as well as demand for its HPC, DGX AI supercomputing, and GRID virtualization platforms.
Professional visualization revenue grew 15% year-over-year and 2% sequentially to a record $239 million, led by high-end mobile platforms. Visualization is hardware only. Nvidia's Mental Ray rendering software is separately reported in "other."
Tegra Processor business revenue, which included gaming development platforms and services, was $419 million, up 74% from a year ago and up 26% sequentially. Tegra Processor business revenue includes SOC modules for the Nintendo Switch gaming console and development services. Also included was record automotive revenue of $144 million, which was up 13% from a year earlier and up 1% sequentially, incorporating infotainment modules, production DRIVE PX platforms, and development agreements for self-driving cars.
During the first nine months of fiscal 2018, Nvidia returned to shareholders $909 million in share repurchases and $250 million in cash dividends. As a result, the company has returned an aggregate of $1.16 billion to shareholders in the first nine months of the fiscal year. Nvidia intend to return $1.25 billion to shareholders in fiscal 2018.
Nvidia began its capital return program in the fourth quarter of fiscal 2013. Since then, the company has returned $5.18 billion to shareholders. This return represents 80% of the company's cumulative free cash flow for fiscal 2013 through the third quarter of fiscal 2018.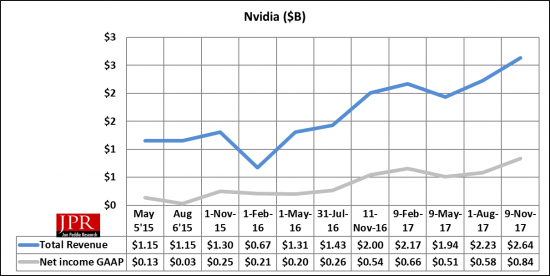 During the third quarter of fiscal 2018, Nvidia announced and began shipping its GTX1070Ti, and announced collaborations to bring the company's GameWorks technology to fall games, including PlayerUnknown's Battlegrounds, Final Fantasy XV, and Shadow of War.
It released the its VRWorks 360 Video SDK, enabling production houses to live stream high-quality, 360-degree, stereo video, opened early access to its Holodeck, providing a virtual collaboration space using highly realistic, physically simulated VR, and launched the Quadro Virtual Data Center Workstation, with virtualization software that turns GPU-accelerated servers into workstations.
Outlook
Nvidia's outlook for the fourth quarter of fiscal 2018 for revenue is to be $2.65 billion, ±2%, GAAP and non-GAAP gross margins to be 59.7% and 60%, respectively, ±50 basis points, and GAAP and non-GAAP operating expenses are expected to be approximately $722 million and $600 million, respectively.
Capital expenditures are expected to be approximately $75 million to $85 million, excluding the planned purchase of the property containing our new Santa Clara campus building.
What do we think?
Nvidia's GPU Business revenue was $2.64 billion, up 18% from last quarter, and up an impressive 32% from the same period last year. It was driven mostly from gaming, but also contributed to by the data center, and pro viz. Tegra Processor Business revenue was $419 million was up 26% from last quarter and 74% from last year, driven by automotive and Nintendo.
Gaming is still the big money maker for Nvidia as shown in the following chart.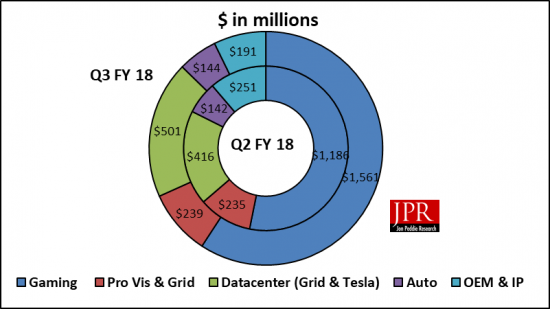 However, the rate of change in the Tegra sales year-to-year is shockingly good—74%, which is attributed to the growth in automotive, and a nice uptick on Nintendo developer systems. Pro viz is up and that mysterious, and certainly fleeting cryptocurrency bubble continues to warp sales and forecasts.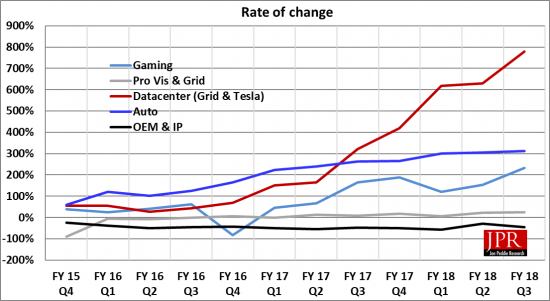 The numeric values are shown in the following table.

The valuation placed on the company is getting easier to understand. Both sales and profits are up from last quarter and the outlook for next quarter is up slightly from Q3. The company's share price has been steadily going up and out pacing its competitors by a wide margin indicating the investors have a higher expectation for continued growth and profits from Nvidia than any other company in the segment—Nvidia is truly, and deservedly, the darling of the industry now.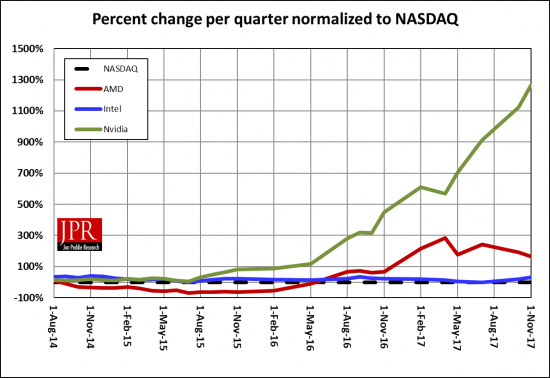 Nvidia has always been an exciting and attractive company for investors, and when the company continues to parade out design wins in all categories from handheld gaming devices to self-driving giant trucks, AI supercomputers, and the best gaming AIB available, it's not hard to understand that level of excitement. Few companies, maybe two others, have that level of accomplishment and pizzazz about them.