Modeling the Beauford Scale of wind speed and its effect on the ocean in real-time physics.
At GTC I thought I was going to be sick—it was nothing but rocking and rolling. The water was pitching, and spray­ing, and the boat was going up and down and back and forth—I didn't know if I could hold it together.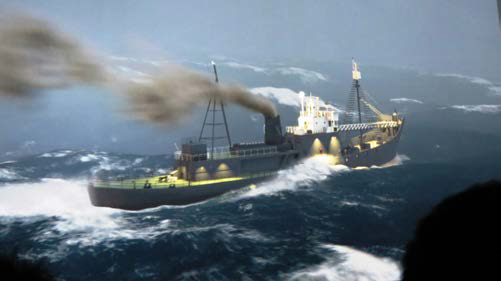 Nvidia's simulation of wave motion was truly impressive, providing wind and tidal effects. The demo started out at a low wind speed, which is rated in Beau­fort units, which, in case you didn't know, is an empirical measure that re­lates wind speed to observed conditions at sea or on land. A light breeze is a 2.0 on the scale, and about 4 to 7 knots. The simulator was cranked up, a step or two at a time, up to level 12, which is hurricane-force wind higher than 64 knots. In addition to an accurate repre­sentation of the sea, with shallows and peaks, froth and spray, the ship's smoke was calculated and influenced by the wind.
The virtual ship has 20,000 sensors around its hull. Those sensors in­form the simulator how the ship should respond. They pick up ship velocity and water proximity. The demo also in­cludes realistic spray and wind effects. There are 110,000 spray particles that operate independently and randomly, reflecting conditions consistent with the Beaufort scale levels.
The demo was cooked up to demon­strate the capabilities of Nvidia's new Titan board. In this case the board's ability to do stochastic and particle simulations of smoke and water were being showcased. Check the video of the demo at GTC (below), posted online by our friends at The Verge. It was a convincing simulation.