The well-regarded but lagging competitor to Amazon Kindle wants to find a new competitive edge and cut its losses.
The Nook is a strong competitor in the reading device market, but it's a long race and the plucky little device is falling behind. Barnes & Noble's Nook segment, which includes the company's digital business (devices, digital content and accessories), had revenues of $108 million for the most recent quarter and $776 mil­lion for the full year, decreasing 34.0% for the quarter and 16.8% for the year, as compared to the year-ago periods. Device sales declined during the fourth quarter because of lower selling vol­ume. Digital content sales increased 16.2% for the full year; however, they decreased 8.9% for the fourth quarter due in part to the device sales shortfall as well as the comparison to the Hun­ger Games and Fifty Shades of Grey trilogies a year ago.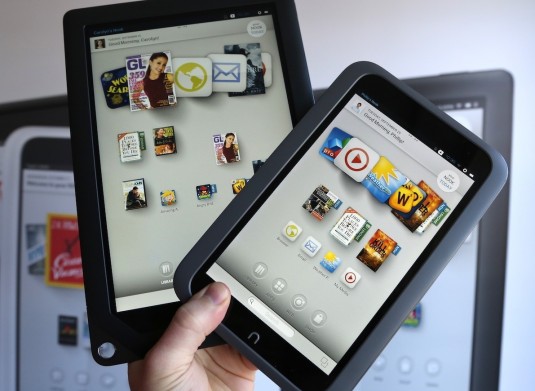 B&N is opening its Nook e-reader platform to third-party electronics man­ufacturers, a move to limit overhead costs and reduce its losses by limiting risks associated with manufacturing. Going forward, the company intends to continue to design eReading devices and reading platforms, while creating a partnership model for manufactur­ing in the competitive color tablet mar­ket. Thus, the widely popular lines of Simple Touch and Glowlight products will continue to be developed in-house, and the company's tablet line will be co-branded with yet-to-be-announced third-party manufacturers of consumer electronics products. At the same time, the company intends to continue to build its digital catalog, adding thou­sands of eBooks every week and launch­ing new Nook Apps.
"Our Retail and College businesses delivered strong financial performances in fiscal year 2013," said William Lynch, CEO of B&N. "We are taking big steps to reduce the losses in the Nook segment, as we move to a partner-centric model in tablets and re­duce overhead costs. We plan to continue to innovate in the single purpose black-and-white eReader category, and the underpinning of our strategy remains the same today as it has since we first en­tered the digital market, which is to offer customers any digital book, magazine, or newspaper, on any device."
The company will continue to offer its existing inventory of its Nook HD and Nook HD+ devices at "amazing prices" through the holiday season, said B&N.
During the fourth quarter, the company determined that good­will impairment indicators arose in its Nook reporting unit as re­curring losses have led to revisions in its strategic plans. As a result, the company recorded a non-cash goodwill impair­ment charge of $18.3 million in selling and administrative expenses. Excluding the impairment charge, Nook expenses decreased $26 million as compared to a year ago, a 34% decrease in expenses as compared to fiscal year 2012.
Nook EBITDA losses were $177 mil­lion for the fourth quarter, which include an additional $133 million of inventory charges as the company adopted more aggressive promotional strategies given the shift in strategic direction. Nook EBITDA losses were $475 million for the full year, primarily driven by cumu­lative Nook inventory-related charges of $222 million.
Our take
Barnes & Noble launched the Nook e-Reader line in 2009 after seeing the success Amazon was having with the Kindle. In late 2011 in a competitive move to match Amazon, B&N intro­duced its Android-based Nook Tablet, and bragged about a wealth of e-books, mobile applications as well as HD video content.
Last month, B&N introduced sup­port for Google Play on the Nook HD and Nook HD+ suite—Nook owners were previously limited to downloading apps and content offered via the Nook Store, which has lots of apps for Nook devices.
B&N was hoping to be more com­petitive with both Kindle Fire and Apple iPad. The company has sold more than 10 million Nook tablets and e-Readers to date.
Amazon introduced the Kindle in late 2007. Amazon has been too embar­rassed to say how many have shipped, but we estimate about 20 million to date, twice the number of Nooks. About 150 million iPads have shipped since its introduction in April 2010.
Ten million of anything seems like a lot to me, but B&N couldn't get the sales up fast enough, or the costs down, and so they shipped money with every reader, hoping to make it up on book downloads; sadly, the company lost money on the product.