SolidWorks World attendees were told today to wait until 2013 for news about the long-term future of their beloved 3D modeler.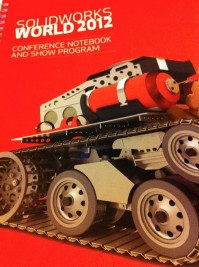 SolidWorks CEO Bertrand Sicot told attendees at today's opening General Session at SolidWorks World there would be no announcements about the long-term future of SolidWorks at this year's show.  On Wednesday SolidWorks will share about new features scheduled for SolidWorks 2013, but Sicot made it clear during his opening presentation the discussion will strictly be about only the next incremental upgrade. Any discussion of a new version of SolidWorks that might be compatible with other Dassault Systèmes products, or be cloud-based, will not happen this year.
Two years ago then-CEO Jeff Ray openly discussed the possibility of SolidWorks being reworked to be compatible with Dassault's web-based V6 technology platform, the foundation for all non-SolidWorks Dassault brands. The news generated considerable speculation among users, much of it less than enthusiastic. Last year at SolidWorks World the company shared details about a new SolidWorks PDM product (n!Fuze) built using Enovia V6 PLM technology, but did not discuss how various V6 technologies might find their way directly into SolidWorks.
Sicot assured the crowd of more than 5,000 that today's SolidWorks file format will be supported "as long as our users require it."