NewTek is now on the fast track. The company has gone to its base, VFX especially for TV, and it is concentrating on the features its users are asking for first including instancing, flocking, fracturing, Pixologic ZBrush interoperability, and Bullet Dynamics.
There's a new kid in town and its good old LightWave. The revitalized LightWave team has a laser focus, which is evident in the new LightWave 11. NewTek threw itself a party in Los Angeles where it celebrated the core base of its user community VFX professionals. The event featured a panel of TV and movie effects experts and the new product was unveiled. LightWave is used in film and TV production, but the largest part of its market is TV. The company says it has that position because it's easy to get work done quickly and it's easy to learn.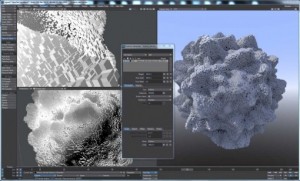 LightWave 11
LightWave 10 helped get NewTek's modeling and animation tool up to speed and gave its long-suffering and loyal users an updated, professional tool. The emphasis now is on creating a product that competes head to head with its major competitors Luxology's Modo and Autodesk's Max and Maya. The company has strengthened LightWave's interoperability with support for Autodesk's Geometry Cache and FBX. NewTek's VP of 3D development Rob Powers crows that "our FBX support is better than Autodesk's." In addition, the company has added GoZ support to enable interoperability with Pixologic's ZBrush's sculpting tools. LightWave 11 also has support for camera matching with Autodesk Maya cameras. And, for the game development community, LightWave 11 has support for the Unity engine, an increasingly popular game development environment that now claims up to 80 million cumulative installs. The audience were delighted with the new support for ZBrush.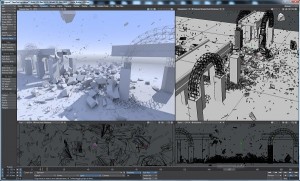 In addition to beefing up its interoperability, LightWave 11 has new features for modeling and animation including new instancing tools that allow up to 1000 dupes of models without increasing file overhead. Thus, rendering times are kept in line. The Instancing feature is flexible. It includes the ability to scale, position, rotate and surface randomly cloned objects to add realism and variation. As Rob Powers added elephant upon elephant to demonstrate Instancing the audience cooed happily. Similarly the new fracturing tool enables objects to be pre-fractured. NewTek has also added support for the open source Bullet physics engine. So fractured objects will have physical properties that can be controlled.
The latest LightWave also features Flocking with support for realistic group movements and also collision avoidance, target alignment, and cohesive attractions.
Enhanced customization
With LightWave 11 the product gets Python support for customization and plug-in development. As Rob Powers conceded to the L.A. audience, LightWave has had its own scripting tools in Lscript and there is a community that has grown up around it. They exchange scripts and plug-ins built on Lscript, but he notes, Lscript is not an industry standard in the same way that Python has become. Killing two birds with one dismissive aside, Powers said Lscript is like Mel, Autodesk's Maya Embedded Language.
Moving forward
With LightWave 10, NewTek added support for OpenGL for hardware acceleration. It introduced the Virtual Preview Rendering window (VPR) that let users see what they were doing. LightWave 11 includes support for stereoscopic tools including anaglyph stereostopic preview. And Rob Powers told the audience at the introduction event that the company will continue to add support for features in the VPR. He said, for example, that the new Instancing feature is supported in the VPR.
Perhaps the most impressive feature of LightWave 11 is that it's available now. LightWave 10 users can download it and try it out and Powers told the audience that the new product in use in some customer sites.
The official ship date is a nice vague Q4 2011. LightWave 11 is priced at $1495 with upgrade pricing at $695.
What do we think
It's good to see LightWave back in the game and they're there with a vengeance. NewTek is putting some support behind the product and there is a new feel around the company and the community. It comes at a good time for the CG community.
At the launch, Doug Drexler who has been working on Battlestar Galactica: Blood & Chrome, noted that "it's a very good time for people like us." He said that the budget crunch that TV lives with favors the use of digital effects and virtual sets which are becoming less expensive to create and the tools are becoming easier. At the same time, we are seeing increased interest in 3D tools coming from people who want to create their own content. Rob Powers notes that the core of LightWave's user community are made up of people who work in small companies or independents who come together for projects. The Abiogenesis project by Richard Mans that is show cased here on GraphicSpeak is an excellent example. It's a first rate demo reel for Mans. NewTek and LightWave nurture this user base by striving to make the tools easier to use.