While designed for Vectorworks, the product can also be used with other file types including DWG.
Nemetschek Vectorworks has introduced SimTread, a pedestrian simulation software tool. SimTread is used with Vectorworks architectural design software to simulate crowd movement and analyze pedestrian flow.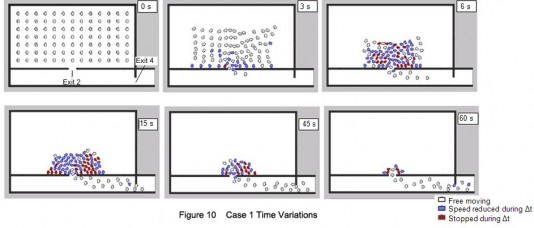 SimTread was developed by A&A Co. Ltd., the Vectorworks distributor in Japan, in partnership with Waseda University in Tokyo, Japan, and leading Japanese architectural firm Takenaka Corporation; Vectorworks is the US distributor.
In addition to simulating and verifying crowd movement with a few simple operations, SimTread can also serve as evacuation simulation software for both general and complex building and municipal designs.
According to Vectorworks, SimTread users need not be professional designers, or even experts at using design software. The product was designed for use with Vectorworks but can also create simulations using a variety of imported file types such as PDFs, image files and DWGs.
SimTread benefits:
Simulates crowd evacuation from schools, theaters, stadiums, event venues, exhibit halls, transit stations, or other locations where large numbers of people gather, to aid in evacuation planning processes.
Generates data needed to analyze how people move through a design and to verify a design's occupant circulation.
At train, bus, or other transportation terminals, helps prevent congestion caused by commuters.
For municipal planning, simulates pedestrian movement along sidewalks and assists with the determination of traffic signal placement.