The ThinkStation E31, a first step up from consumer-grade desktop computers, is certified by a variety of software vendors.
Lenovo continues is quest to be competitive with HP and Dell in all aspects of the workstation market, with the release next month of the ThinkStation E31, a new small form factor workstation that targets professional users on a limited budget who would otherwise consider a general consumer-grade desktop computer.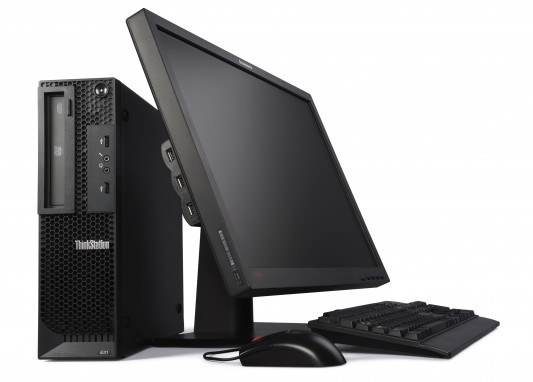 The E31, also offered in a mini-tower configuration, will be equipped with either the Intel Xeon processor E3-1200 v2 product family or the third generation Intel Core i7 processor. All models use Error Correcting Code (ECC) memory and 1600 MHz DDR3 memory. For faster I/O than typical consumer-class PCs, the E31 uses USB 3.0 ports which provides up to 10x faster transfer rates over USB 2.0.
Both models offer the option of Intel HD Graphics P4000 or NVIDIA Quadro Graphic cards (up to the Q4000 in the tower model and Q600 in the SFF). Storage options go all the way up to 9TB of storage for the tower model or 6TB on the Small Form Factor. The E31 comes standard with Windows 7 Professional, and supports a variety of engineering and design applications from vendors including Adobe, Autodesk, Dassault Systèmes, PTC, and Siemens.
The workstation's eco-conscious design offers up to a 92% efficient power supply, as well as Energy Star 5.2, 80 Plus Platinum, EPEAT Gold and GREENGUARD certifications.
The Lenovo ThinkStation E31 mini-tower will be available starting June 5, 2012; the small form factor model will ship starting July 13, 2012. Pricing starts at $629.