The free version of 3Don ARchitecture allows use of a sample model; it is $15 per year to use your own data.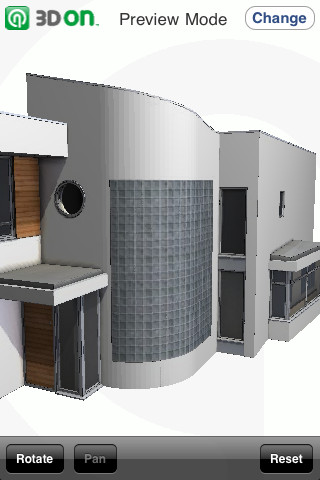 A new viewer app for iPhone and iPad can take Google SketchUp building models and display them in situ. Using GPS and the device camera, it is possible to physically visit a potential building site and see the model in location on the screen, and to save the combined images for further use.
The app is 3Don ARchitecture from 3Don; the free version is available on for download on iTunes. The developer's website makes it clear there is an annual fee for using real models, but it is not mentioned in the iTunes description. The current price is £9.99 ($15.60). Key features:
Works with KMZ format files (primarily used by Google SketchUp and Google Earth);
Preview mode allows the user to view the model, using touch commands to move and rotate;
Create a photo montage by merging the building model with location photographs; take a screenshot to save;
Walk mode uses the iPhone or iPad's gyroscopic ability to explore the model by using the device as a viewer: tip up and view the gutter, tip down and view the floor;
On Site mode allows the model to be viewed through the viewfinder when at the potential building site.
More information: 3Don ARchitecture