The software automatically extracts pipe geometry from 3D point cloud data, reducing pipe modeling time 50% or more.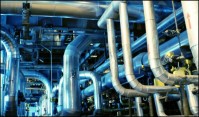 ClearEdge3D (Warrenton, Virginia) is now shipping Edgewise Plant, a new software tool that automates the extraction of complex CAD geometry from 3D point cloud data. The software uses smart algorithms to identify essential surfaces in a point cloud, discarding irrelevant data and extracting solid, accurate feature-geometry.
The company says the use of Edgewise Plan can eliminates the need to manually trace pipes, walls, joins, and other features, and that the product can automatically process and extract hundreds of pipes (including centerlines), walls, structures, and other complex plant geometry in minutes.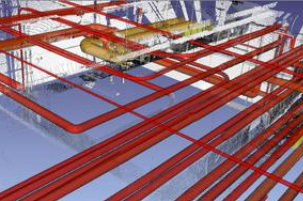 The extracted geometry can be exported via DXF into a CAD package for final modeling. Edgewise Plant also works with multiple scans, which improves the model accuracy as long as the scans are properly registered to each other.
The product comes with a set of editing tools for connecting pipe runs and full COE compatibility for Leica Cyclone users.
Initial beta testers report that they have cut pipe modeling times by 50% to 90% using Edgewise Plant. Scott Cedarleaf, CEO of scanning service provider SkyBucket, says, "The pipe extraction tool is remarkable. The cleanup and finishing tools are equally impressive. What would normally take me two hours or more with other software now takes 40 minutes or less."
ClearEdge 3D has been working on the problem of identifying elements in 3D scans for five years. The company's chief scientist, Kevin Williams, says they made a breakthrough recently that allowed them to go to market, a change in the underlying algorithm that identifies a pipe centerline from within the millions of points in a 3D scan of plant. "It was a particularly challenging math problem," says Williams. "With centerline data almost the entire facility can be identified and automatically extracted."
A trial version is available at the ClearEdge 3D home page.
A 2-minute video demonstration can be viewed at http://www.youtube.com/watch?v=paWfpeBXoK0.
What we think
Pipe modeling in 3D scans is a tedious business. Any software that can cut the task down and free engineers to work on more productive tasks should have steady business. Jody Lounsbury of Clough Harbour and Associates puts it succinctly, "Our team is laughing because what [ClearEdge 3D] just showed us in 10 minutes took four hours to do."