Not content with selling Sketchbook or the occasional quirky app on the Apple iStore, Autodesk takes the initiative, and a piece of the action, with its new store accessible within AutoCAD.
Autodesk has added the ability to buy utility applications from within AutoCAD 2012. The company revealed the new feature through a Facecast on Monday, June 13. Facecasts are live video feeds via Facebook, which gives participants a chance to comment interactively with presenters. It's not so different from webinars or Adobe Connect except that it's very democratic. Anybody can play. And, Autodesk's Webinar introducing its new AutoCAD app store had a chatty, amateur feel to it. No doubt, that's what the presenters were going for.
While in AutoCAD the app store can be accessed by clicking on the Exchange button at the top right to get online and then accessing the Apps tab. Customers can buy products by registering and a Paypal account will do. In addition, developers can sell their apps through the store. The benefit to both buyers and sellers says Autodesk is that apps are vetted before they offered to customers. As of right now, the store is only available through "vanilla" AutoCA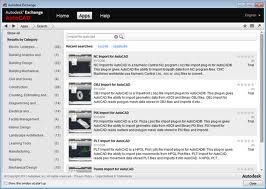 D 2012 and not AutoCAD LT or specialized version of AutoCAD.
Autodesk says there are already more than 100 apps available through the Apps tab. In addition to utilities the store will also offer learning tools and free apps. The App store is an extension of the Autodesk Developer Network (ADN) led by Jim Quanci. As an example, the Facecast featured the Coins Translate tool, a free utility that lets users highlight text and instantly translate it. It also tells people where it is. Although the first apps available have come from members of the ADN but all developers are welcome to submit apps.
The App store went live with the announcement on June 13.