New E3D Insight is for Windows 8 only and uses Microsoft Azure cloud technology.
Aveva has launched its first mobile app, the fruit of a year-long collaboration with Microsoft to develop a 3D mobile viewing platform for plant design. Aveva E3D (the "E" is for "Everything") is only available on Windows mobile devices.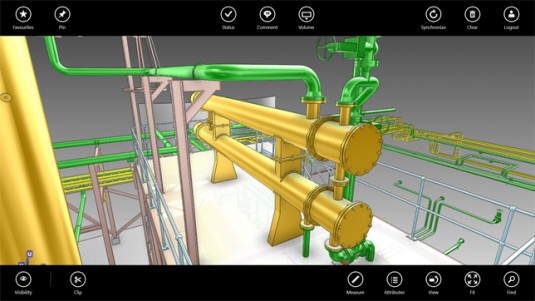 The app is being released for Windows 8.1, requiring current owners of Windows 8 tablets to upgrade their OS. The desktop version of Windows 8.1 has been met with considerable skepticism from users, some of whom say it breaks more things than it fixes. The app uses Microsoft Azure cloud technology exclusively for model access and data use.
E3D Insight  is designed to give plant design project decision makers the ability to view and approve design files from Aveva's Everything3D suite. Authorized users have access to the 3D plant model from anywhere.
Key features:
Model visualization: Users can see the Aveva E3D model and its associated information quickly and clearly;
Inspection: Users can inspect, manipulate and measure the model to check for such potentially critical issues as object clashes, accessibility and non-compliance with design standards;
Comment: Authorized users can leave a permanent record of feedback in the E3D database.
Approve: Authorised users can set model status to customer defined approval levels.
Our take
Software companies that cater to enterprise customers, as opposed to consumers, must take a very different pace in bringing their products to market. It could be argued that Aveva is two years behind in bringing mobile technology into its plant design environment, but by standardizing on Windows 8 and Microsoft Azure cloud technology, it extends the existing investment without forcing clients to adopt a "bring your own device" approach to plant design.