An ODBC driver opens AEC data to Excel, Crystal Reports, and other products. Other apps extend AEC data beyond design and operations.
Today Bentley Systems introduced new software apps designed to make AEC data more accessible for business uses. The new apps join the existing library of Bentley free tools for interoperability in AEC and infrastructure operations.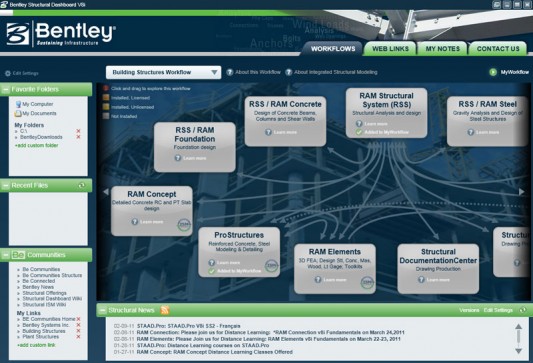 Bentley iWare Apps are a set of free software tools that simplify the process of extracting specific bits of information from larger design files. New products include a toolkit for using AGS geospatial data in Excel, a Structual Dashboard for tracking and managing workflows and information exchange, and an engineering units conversion tool.
A new i-model driver allows data to be used in ODBC format, which works with Excel, Access, Crystal Reports, and Visual Studio, among other products. Bentley defines an i-model as a "container for open AEC information exchange." i-models can be published by all Bentley applications, plus the new Bentley's iWare apps provide plug-ins to publish i-models from Autodesk Revit. Bentley says i-models interpret, "normalize," and expose "disparate data schema from varied sources," so the AEC information that any i-model contains "can be programmatically accessed in a standard way."