New mobile apps will connect to ProjectWise collaboration and Navigator model viewing products.
Bentley Systems will extend its ProjectWise V8i synchronized collaboration and Bentley Navigator V8i review and markup capabilities to users of mobile devices, such as iPads. The company announced the forthcoming release of the two apps at its annual user conference today.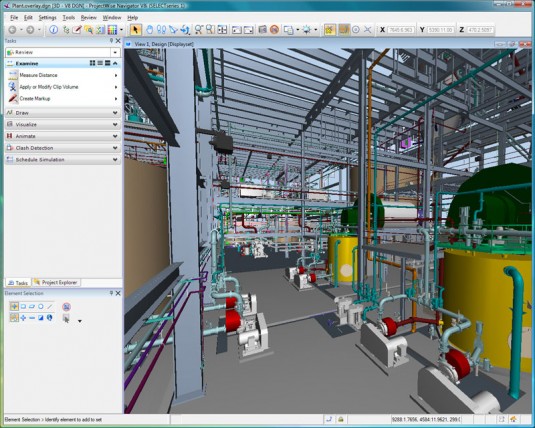 ProjectWise is Bentley's project team collaboration and work-sharing platform. It is used by 71 of the ENR Top 100 Design Firms. Navigator is used to interactively view, analyze, and augment project information, and can read both MicroStation DGN and Autodesk AutoCAD DWG formats as well as point cloud files.
The iPad apps, demonstrated for use with ProjectWise and Navigator, will be available on the Apple iPad Apps Store in August. Use will require a ProjectWise Passport, Bentley's term for a floating usage license. The products will be named ProjectWise Explorer for the iPad and Bentley Navigator for the iPad.
ProjectWise Explorer enables access not only to Bentley-based project data, but also to Microsoft Office documents, PDFs, images, and videos. Bentley says the new iPad app will also have these capabilities.
Bentley Navigator for the iPad will offer "panoramic navigation" of models, which means users can navigate a model by moving the iPad as though it were a window into the model within which they are virtually immersed. Storage and access to markups from Navigator for iPad will be coordinated through a ProjectWise installation.
The review and markup synchronization capabilities are enabled by Bentley i-models, which track the "provenance" of the information they contain. For the release of these two new iPad apps, Bentley has expanded the capability of i-models in two ways:
i-models can now package multiple files of architectural, engineering, construction, and owner-operator content, including models, drawings, Microsoft Office documents, and more. These packages can also serve to ready such information for use in an offline workflow.
i-models can now be rendered for device-specific use cases, such as the newly introduced i-model for the iPad, to both take advantage of the device's capabilities and accommodate its limitations. These device-specific i-models suit the typical use activities of the device, such as with panoramic navigation on the iPad.
Device-specific i-model renditions can be created either within design authoring applications, or automatically generated via the ProjectWise Dynamic Composition Server. Projects can elect to maintain current iPad renditions of relevant models for instant "cloud" access and immersive review.
Bentley plans to introduce i-model renditions and apps for other mobile environments, such as the Google Android OS and BlackBerry Playbook, later this year.
What do we think?
A few years ago it was common for editors and analyst to say, "If you want to know what Autodesk will do in three years, look at Bentley today." But recently Autodesk has been the leader in AEC innovations, with its rapidly expanding product line and new emphasis on upfront analysis in AEC. Autodesk also beat Bentley to the iOS starting line. It is good to see Bentley introduce these new products. They do not appear to be 'me-too' rush jobs, but well-thought-out applications that will be well received by the Bentley user community—by and large the world's largest AEC, plant, infrastructure, and capital asset operations companies and agencies.