The Helsinki company spurned other suitors, preferring the "brands first" approach at Nemetschek.
AEC software specialist Nemetschek has beat out other suitors to become the new owner of Solibri, a vendor of software for quality assurance and control in building information modeling (BIM). The Solibri Model Checker validates that BIM models are compliant in terms of integrity, quality and country-specific standards throughout the whole design and building processes.
Nemetschek reports the purchase price as €32 million ($38 million). The acquisition is expected to be completed by the end of 2015.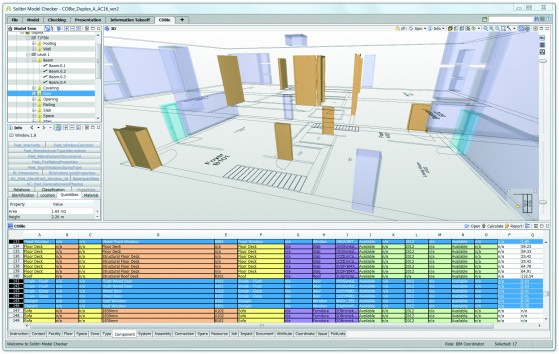 Solibri was founded in 1999 and has 35 employees. In addition to its headquarters in Helsinki, the company has branches in the US and UK and sales organizations in Spain and Germany. For the 2015 financial year, Solibri anticipates revenue amounting to just under €5 million ($5.4 million), up more than 50% over 2014 revenue.
Without naming names, Nemetschek says it beat out "several potential buyers" for Solibri. Nemetschek says the sellers were attracted to Nemetschek's group structure, where each brand retains a separate identity. Other well-known Nemetschek brands in AEC include Allplan, Vectorworks, Scia, and ArchiCAD.
What do we think?
Nemetschek is a strong proponent of open standards, especially when compared to Autodesk and Bentley, who make sure their converters work but don't generally rely on open formats as primary data formats. Solibri has from the start been about open standards for architecture design.
Use of BIM technology is growing faster in Europe than in the US. Munich-based Nemetschek already has three of the leading brands of AEC design software used across Europe. Solibri works well with them all. Sure looks like Nemetschek found itself a high-level strategic fit to be the newest edition to its solution portfolio approach to design and building processes.