The giant touch screen technology popularized by CNN will join the Office division.
Microsoft announced it is buying New York start-up Perceptive Pixel. The company has pioneered large touch screens and sold their products with a snazzy interface that allowed their customers to create dynamic presentations. Company founder Jeff Han is a showman who put the screens through their paces at trade shows and helped created a business for the company in broadcasting. The screens get a lot of use for weather maps and election coverage. One of the company's patented applications is the Collaboration Wall. The company's screens range from 27 inches to 82 inches and the largest sizes cost around $80,000. We believe most deals are for screen and application development.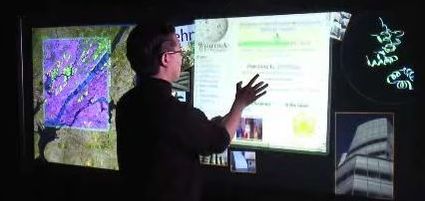 In 2008 Perceptive Pixel gained attention for transforming the way CNN and other broadcasters covered the 2008 U.S. presidential election. In 2009 the Smithsonian awarded the company the National Design Award in the inaugural category of Interaction Design.
All that does not go very far to explain what Microsoft could possibly want with Perceptive Pixel. Jeff Han is pretty much the company and Microsoft has shown their own uses for multi-touch including collaborative work.
Microsoft has said it will use Perceptive Pixel's technology to add to expand its expertise for mobile devices, tablet computers, and large screens. Perceptive Pixel will be integrated into Microsoft's Office division and Microsoft says partners will have access to Perceptive Pixel's technology in the Windows 8 operating system. Steve Ballmer called Perceptive Pixel's large displays, "a very big Microsoft 8 tablet."
In addition to deep roots in multi-touch, Perceptive Pixel also has patents in the technology. The conventional wisdom around the acquisition is that Microsoft is building in some additional protection with Perceptive Pixel's six patents; among them a patent for manipulating objects on a pressure-sensitive screen.
Previous GraphicSpeak coverage: Perceptive Pixel introduces 27 inch screen with stylus