Forthcoming release of the real-time ray-tracing and illumination software takes a keyframe-free approach to creating animation from 3D digital data.
Rendering technology vendor Luxion has announced version 3 of KeyShot, its real-time ray-tracing and global illumination program. The new version features a new animation system designed with its target market of engineers, designers, and marketers in mind. The new version was demonstrated at Siggraph 2011 last week in Vancouver.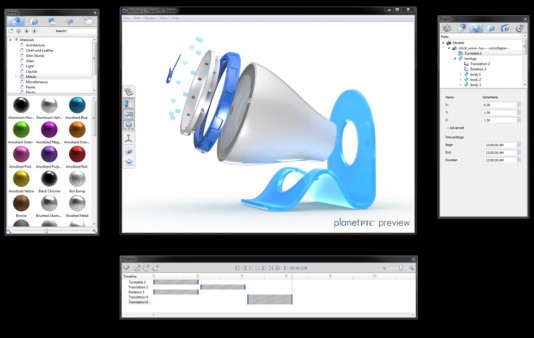 Dr. Henrik Wann Jensen, Chief Scientist of Luxion, says the new patent-pending animation system breaks down the complexity of creating animations of 3D data, yet offers the same photorealistic results as with still images. "Computer animation is often a tedious task that requires expert knowledge to setup even simple animations," Jensen says. "We decided to develop an animation system that is just as simple to use as KeyShot has been for rendering. In order to achieve this, we built the animation system directly into KeyShot without relying on keyframes."
Features in the new animation system include:
Everything happens inside KeyShot's realtime raytraced environment: setup, edit and playback.
During setup, edit and playback of the animation the scene stays fully interactive, allowing the user to interact with the camera, lighting and materials.
Rather than relying on setting up keyframes, Luxion has developed a unique, patent-pending animation system based on offset transforms.
The use of offset transforms makes it possible to add individual animation components to single or multiple parts, move them in the timeline, and copy, paste or move them within the model hierarchy.
To develop more complex animations, the user adds multiple transforms to each object.
KeyShot 3's all new animation capabilities can be added to KeyShot and KeyShot Pro for $500. The software is currently in beta-testing mode with select Luxion customers; the final release of KeyShot is targeted for the third quarter of 2011.
In addition to the new animation features, a variety of fixes have been made to the user interface and workflow.
More information: http://www.keyshot.com/keyshot3.