A new military vehicle goes from suggestion to prototype in six months thanks to 12,000 contributors and V6 software.
Local Motors is a car company for enthusiasts which uses an open source-style crowdsourcing approach to design, allowing customers and others to participate in the product development process. Using Dassault Systèmes CAD and PLM technology, Local Motors recently delivered the first co-created military vehicle, going from concept to working prototype in less than six months.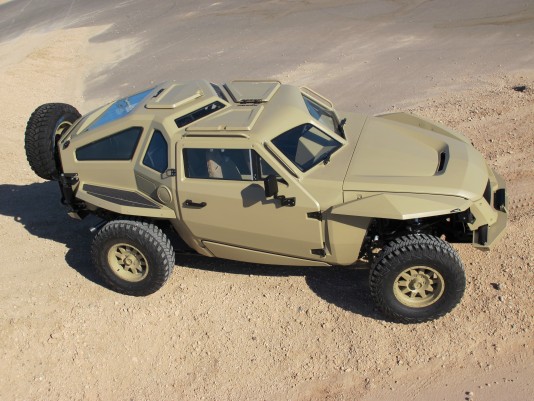 The Local Motors' community was asked to develop a vehicle body design that could support two types of missions, Combat Reconnaissance and Combat Delivery & Evacuation. More than 12,000 members either contributed to the design challenge process or provided feedback. Participants submitted their designs online for review; feedback from others enabled participants to incorporate novel ideas and concepts. After receiving and validating more than 150 design entries, Victor Garcia's FLYPMode design was named the winner of the Defense Advanced Research Projects Agency's (DARPA) Crowd-derived Combat-support vehicle (XC2V) Design Challenge and was subsequently built into an operational prototype.
Dassault Systèmes supported the project on several levels by providing technology for individuals to design independently and collaborate with each other. Dassault Systèmes' 3Dvia Composer was provided to each design participant as part of the project ignition kit; Catia was used for packaging and component designs; Enovia was used to store and manage both Catia and SolidWorks design data; and Simulia was used for virtual testing and analysis.
"Dassault Systèmes is a natural partner choice for us on this project," said Jay Rogers, CEO of Local Motors. "We both see the future of product creation based upon an open process where we gain wisdom from the masses in order to deliver truly relevant products. We could not have achieved the same outcome on this project without their intuitive design and collaboration tools and support."
What we think
Local Motors might be on to something. The mantra of the early years of the open source software movement was: "With enough eyes, all bugs are shallow." It seems to work for software engineering—after all, the Internet backbone is open source—so why not put it to work in product design? This is not to say we are counting the days until the death of commercial product design as we know it. More likely, brave souls like the guys behind Local Motors will encourage larger and more traditional manufacturing firms to take advantage of their software and open up the design process within their existing organizations.
Dassault promotes its V6 platform as a collaborative product development platform, but so far few customers have crossed the river from V5. Perhaps the browser-based, Web-scalable approach of V6 still scares them off. We know some large users who shy away because it all feels too proprietary and closed; several large auto manufacturers moved from Dassault to Siemens PLM in 2010. Local Motors is small potatoes in automotive, but perhaps the lessons coming from it will resonate with a larger audience in the years to come. Dassault certainly hopes so. The irony of open source product development promoted by a software company with an "us or else" reputation is not lost on us.