Updates to Validation Tool and ECO Manager are also available.
The new update to Kubotek USA KeyCreator 2015 adds new featured to its Direct CAD module for dynamic modeling and editing. The release also includes an optional 2D/Drawing Translator package for the import and editing of native CAD drawing file formats, and other improvements throughout the program.
Many companies exchange 2D/Drawing information throughout the supply chain and must convert their native CAD drawing files into other usable 2D/Drawing file extensions for manufacturing purposes. Instead of requiring translation, KeyCreator accepts native 2D/Drawing files from all leading 3D MCAD vendors. KeyCreator users can also make modifications before completing their manufacturing tasks. Supported formats include SolidWorks, Catia, NX and others.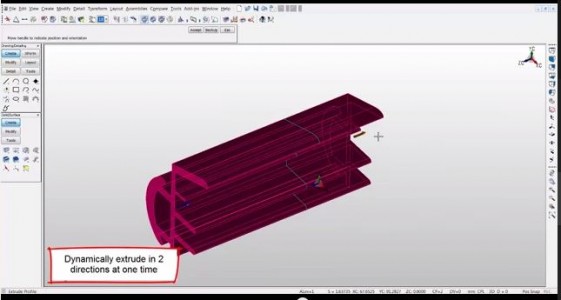 KeyCreator 2015 also contains a new dynamic sketching tool called DynaSketch which gives users the option to quickly draw irregular, complex shapes. Dimensions and values can be added on the fly, and the function can be invoked in both the 2D and 3D environments of KeyCreator.
Other new dynamic editing tools in the current update provide increased flexibility in design creation and editing. Functions like Dynamic Extrude or Dynamic Revolve let users build their model as they move their mouse, taking advantage of real-time visualization for easier design conceptualization.
Introduced in this release is a new Quick BOM function, as well as the ability to search text inside a part and all its associated layouts. Kubotek USA says uses can build their BOM in a few mouse clicks using either customizable or standard templates. The text search options include general, match case and regular expressions and results are made available for any active part.
KeyCreator Analysis, the optional multi-physics FEA package for KeyCreator, gains significant improvements and performance updates. Kubotek says the FEA module has a faster, more accurate solver and improved meshing technology. A free fully functional 30-day trial is available for all users of the current version of KeyCreator. Following the conclusion of the 30 day trial, KeyCreator Analysis will continue to work with limited nodes for one full year.
Several new CAD viewer options are available with this release, as well. The new Spectrum KeyCreator will read all version of KeyCreator and is available as a free download. Spectrum Cadkey is a new viewing option that will view all legacy Cadkey files, plus all KeyCreator versions.
What do we think?
The nice people at Kubotek USA must look to Rodney Dangerfield as their patron saint. Despite being a vendor of direct modeling 3D CAD long before it was popularized by VC-fueled SpaceClaim (now part of Ansys), KeyCreator soldiers on without much recognition. Much of the problem is its Japanese roots: Japan software vendors are notorious for telling customers what they need instead of asking what they want, and they are exceptionally stingy with marketing, by American standards. KeyCreator has become an essential element of the workflow in many automotive companies because it is the Swiss Army Knife of 3D CAD; this flexibility forms the basis of the company's continued slow but steady growth in the US market.