Pattern recognition technology compares models from a wide variety of CAD systems.
A new version of direct 3D modeling tool KeyCreator is now available from K2D, offering new technology for comparing models created by a wide variety of CAD systems.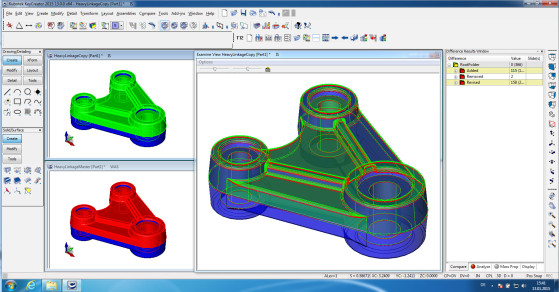 In recent years direct modeling has become more popular, but still remains less influential in the world of mechanical design than parametric modeling. KeyCreator is the only remaining direct modeling tool not acquired by a larger vendor.
KeyCreator Version 13 now includes a new Compare module as part of the standard package. K2D claims KeyCreator is "the first and only" CAD system that can import, edit, and compare dozens of native CAD files produced from other systems. This CAD comparison technology expands the use of KeyCreator's proprietary pattern recognition technology, providing users with a new way to graphically identify, automatically organize, and communicate changes to model data via automated PDF reporting.
Uses for the new Compare module include:
Creating is/was comparisons for quoting manufacturing jobs and changes
Design collaboration with customers
Revision management for design updates.
Other notable features in KeyCreator V13 include:
Animation enhancements for rack and pinion constraints, universal joint constraints, point-on-curve constraints and intermittent motor dialogs
Animation capture for export as a movie file
An updated user interface in the Artisan module for photorealistic rendering.