UC Berkeley researchers push the boundaries of form, workflow, and materials. Luxology Modo becomes the primary design software, outputting cement to Z Corp. 3D printers.
A research team at UC Berkeley's School of Architecture is working to redefine design workflow using Luxology Modo and 3D printing, opening up creative possibilities in manufacturing and design. Their first public project is a park bench 3D printed in sections and assembled on site.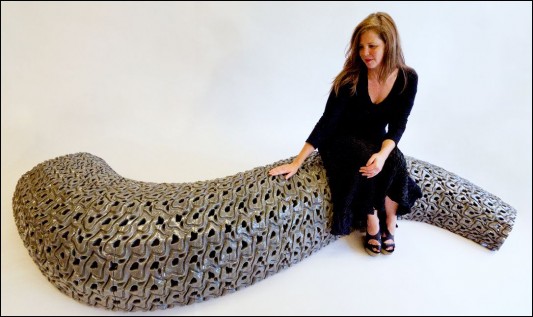 The architectural exploration of design, rapid prototyping, and manufacturing is led by Ronald Rael, an assistant professor of architecture working with students in an advanced thesis seminar. The UCB architecture department uses a wide range of CAD tools, but Rael and his students have come to prefer the intuitive yet precise capabilities of Modo, a subdivision surface modeler, over traditional NURBS-based 3D CAD software.
"We are interested in working and thinking in 3D," says Real. "CAD programs can work in 3D, but they are meant for drafting and representing as drawings. We are leaping between drawing, modeling, and making; testing the limitations of what our designs can become as real objects."
"The techniques we are developing can transform how architects and designers work," says Rael. "Modo's unique toolset and workflow provide complete freedom to create any imaginable 3D geometries, and we are able to preserve almost all of Modo's incredible detail through the evolution of our process and materials. We can then quickly cast these for analysis of performance, strength, ergonomics and assembly."
An example of this is Rael's most recent creation, the world's first concrete polymer 3D printed bench. Called the Seat Slug, the bench is constructed of nearly 250 unique parts, all designed in Modo using a special material developed by Rael and his studio, Rael San Fratello Architects. The material is cement-based, inexpensive to produce, and incredibly strong at 4700 psi. The 3D printing is done on Z Corp. products. The Seat Slug will be on display for two years at San Francisco's Fort Mason National Park, overlooking the upcoming America's Cup race.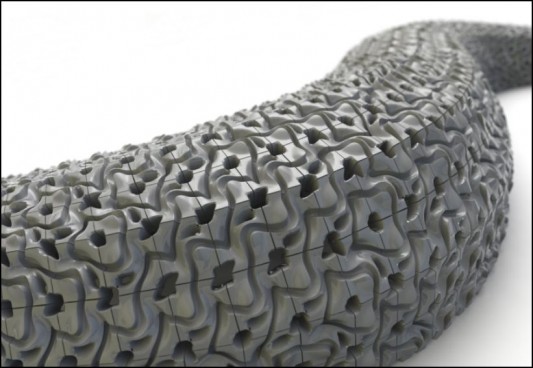 Rael says there is a new generation of "Modo-holics" at Berkeley now. In all, Modo is being taught to more than 120 Berkeley students this semester at all levels of the academic spectrum, from graduate and entry-level to dedicated engineering students. Rael appreciates the ability to see design intention in real time while modeling. "It is easier to think about materials and material details as we design. The representation of materials can be very precise."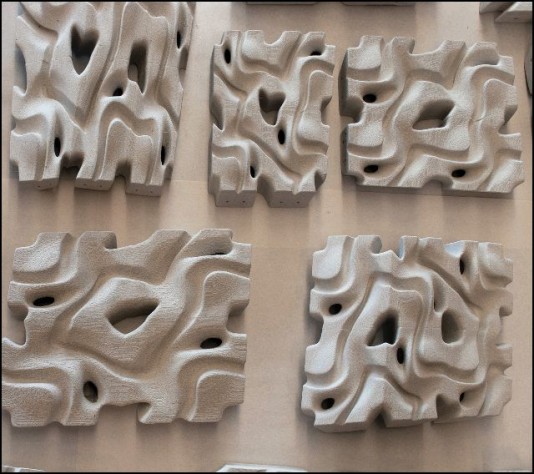 Full Seat Slug Credit: Rael San Fratello Architects, Ehren Tool, Professor Richard Shaw (Berkeley), The Department of Art Practice at The University of California Berkeley, The Hellman Family Fund, Professor Claudia Ostertag (Berkeley) and Luxology.