The MacBook Air is doing too well, and netbooks doing too poorly. Intel thinks it is time for powerful and ultra-light notebooks for Windows. The big manufacturers aren't so sure.
By Kathleen Maher
Intel is seeing opportunities in powerful thin and light notebooks. Intel calls the segment the Ultrabook and the idea was promoted by Intel at Computex this year as part of Sean Maloney's keynote. Intel sees the ideal development time frame for the Ultrabook as coming with its Ivy Bridge processor and that was what Maloney wanted to communicate in Taiwan.
Maloney has predicted 40% of notebooks in 2012 will qualify as Ultrabooks. As envisaged by Intel, the Ultrabook isn't exactly an Apple MacBook Air knockoff. Traditionally, the Air has very limited I/O, a state of affairs favored by Apple for its simplicity. Intel on the other hand really likes the idea of lots of connectivity—say with Thunderbolt. The Ultrabook also uses solid state storage or SSD caching to enable responsiveness.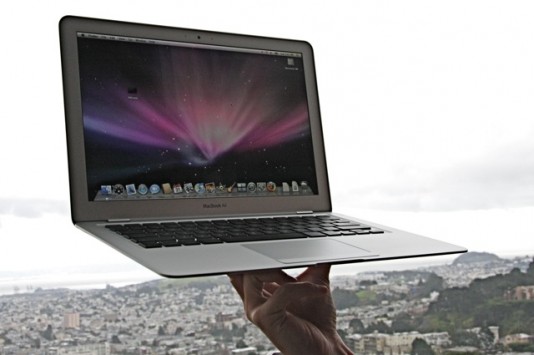 The Sandy Bridge processor is an enabling technology for this new breed of tablet, but Intel is looking for exceptional battery life, response, security, and a price under $1,000. Intel's upcoming Ivy Bridge, in addition to being a teeny, tiny, really teeny processor at 22 nm will bring the OEMs and ODMs closer to the margins they'd like to see for the devices. The OEMs did not enjoy the netbook dive for the bottom, and according to reports from Taiwan, they are responding to Maloney's call for Ultrabooks with caution. Asus, Lenovo, and LG Electronics have signed on, and Intel is helping with marketing money.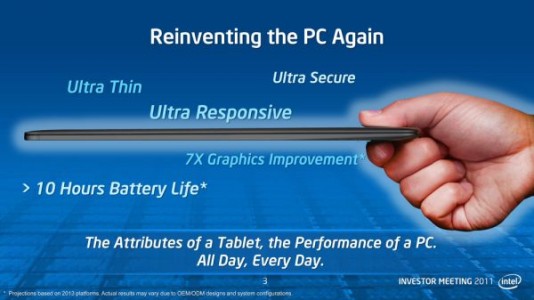 Asus, always one of the first kids on the block, has built an Ultrabook, the UX21. It does have a solid state hard drive and an i7 Intel processor. It's scheduled to arrive in the market at the fourth quarter and it will meet the requirement that it come in under a price tag of $1,000 or so says Taiwan's Commercial Times. According to reporting from Digitimes, Intel is encouraging Asus and other Taiwanese manufacturers to build Ultrabooks. Digitimes writer Monica Chin observes that an earlier attempt to promote powerful thin and lights failed in 2009 at the height of netbook fever. However, at that time some of the strongest proponents of the segment were companies like Sony, which were eager to keep the price points high.
Asus is a more likely standard bearer for this segment which needs to balance price and functionality. Digitimes says Intel "is providing significant budget to supports its partners launching Ultrabooks." However, Chen suggests that Intel is not willing to make the ultimate sacrifice and cut its margins and bring down the price points of its chips. Basically, that's why the market is waiting for Ivy Bridge, which is coming in the first half of 2012. Following on Ivy Bridge comes Haswell in 2013 which is even more power-efficient.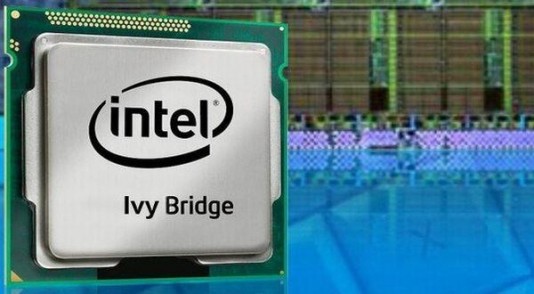 So, what is the Atom supposed to be doing in the meantime? Intel wants Atom to get to work subverting the momentum of ARM-based processors, and especially those coming from Nvidia. At Computex this year, Intel said they expected to see 35 system designs based on Oak Trail, Intel's Z760. There were 10 tablets running Oak Trail at Computex this year. Cedar Trail is the next design, a 32nm chip. Intel's new goal for its Atom-based processors is targeted at the arrival of Microsoft's Windows 8 operating system, which will support ARM based processors. Windows 8 is expected in 2012, and that generation will be the Medfield descendent, Clover Trail. It will be complemented by the Cloverview processor on the higher end and both chip lines will be targeted at the tablet.
What do we think?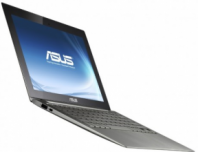 The question seems to be, how badly does Intel want the Ultrabook and equally, does AMD want to jump in there. Why will people buy Ultrabooks this time when they were cool to the idea before? It's all about price. The notebook manufacturers might have wanted to preserve their margins but consumers, at least American consumers, have certain price points in mind when they go shopping. However, as the various contenders arrive, tablets with Windows capabilities, Android tablets, more netbooks, and so on, it's likely that many people are going to feel they need a more powerful portable machine.
We're already traveling with both a tablet and a notebook and sometimes even an e-reader. Consolidation is required. With these products and the Ultrabooks, Intel is not leading the market or development, it's following. Apple's Air is slowly but surely generating interest among consumers for a real computer that's real portable and of course the Android suppliers and Apple are fueling interest in tablets.
In the device arena, the ARM based suppliers have the edge and Nvidia has made an impressive leap to the front of the pack with its dual core Tegra. Qualcomm and TI are close behind. It's no wonder the Ultrabooks hold more allure for Intel and its partners. There is a clear value for people who need a working machine.
Kathleen Maher is Editor-in-Chief and Publisher of GraphicSpeak and an analyst at Jon Peddie Research.