In 2008 Autodesk filed a federal lawsuit against Dassault Systèmes SolidWorks, opening another front on its DWG litigation war. While several grievances were cited, the suit was really about Autodesk trying once again to gain legal control over those three magic letters, D-W-G. The suit ended with a settlement between the two that was kept secret. Here is the CADCAMNET report and analysis from when the suit was filed.
By Randall S. Newton
Editor-in-Chief and Publisher, CADCAMNET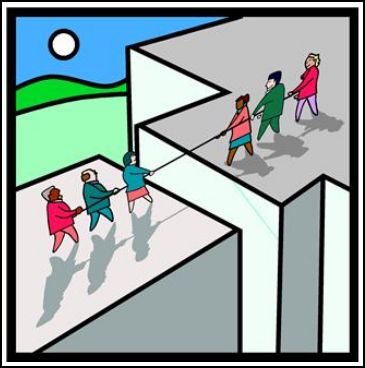 [Editor's Note, 2011: This lawsuit was settled just as a jury was about to be selected. A report on the final result is not available in our archives; we suggest you read the report from Kenneth Wong writing for Desktop Engineering, entitled "Autodesk and SolidWorks Settle Lawsuit over DWG."]
CADCAMNET, September 25, 2008—Autodesk has filed a federal lawsuit against Dassault Systèmes SolidWorks, opening another front in its continuing war to gain legal control over the use of "DWG" as it applies to CAD technology.
In the federal lawsuit filed September 17, 2008, Autodesk claims that SolidWorks violates federal and California trade law in a variety of ways, and asks for a wide variety of judgments. SolidWorks has issued a short statement: "We believe Autodesk's unfounded lawsuit is completely without merit. We intend to fight this and vigorously defend our position in federal court."
The complaint, filed with the US District Court of Northern California, lists nine areas in which it alleges violations of either federal (US) or California (CA) trade law:
Unfair competition (US);
False designation of origin (US);
False advertising (US);
Trademark infringement (US);
Trade dress infringement (US);
Unfair business practices (CA);
Deceptive business practices (CA);
Unlawful business practices (CA);
Deceptive, false, and misleading advertising (CA).
Three selected quotes from the complaint summarize what Autodesk believes is at stake:
"Because AutoCAD and other Autodesk software products are so widely used, and the DWG file format name is so distinctive, design software users associate DWG with Autodesk and its successful software products."
"Seeking to trade off or undermine Autodesk's accumulated goodwill, DS SolidWorks has turned to several misleading, unethical and illegal competitive techniques. Specifically, DS SolidWorks (1) improperly attracts Autodesk customers to the DS SolidWorks product offerings by using the term DWG in product names, domain names, and associated websites, which specifically target AutoCAD users; (2) misrepresents the compatibility of its software with Autodesk and its DWG technology; (3) improperly uses and over-emphasizes Autodesk's AutoCAD registered trademark on the webpages and in the metadata of DS SolidWorks websites; and (4) mimics Autodesk's trade dress."
"On information and belief, DS SolidWorks is the only company that both incorporates a reverse-engineered form of Autodesk's DWG file format and engages in such blatant acts of unfair competition and misleading advertising described herein."
DWG too common to protect
Autodesk has used "DWG" as the file format name for AutoCAD drawing files since the early days of the product in the 1980s, yet it did not seek to gain a trademark or registered trademark (the two are different) on "DWG" until the last few years. So far, its efforts to gain trademark status for DWG in both the US and Europe have failed, although the effort in Europe is being appealed. The agencies in both jurisdictions ruled that the use of DWG is too pervasive and long-standing in the design software industry to have one particular company claim it as a trademark, and that as a matter of form it will not grant trademark status to file format designations. The US Patent and Trademark Office also threw out Autodesk's trademark request because it came too many years after the fact.
In 2007 Autodesk took the Open Design Alliance to court and won, but that suit was based on the use of the words "Autodesk" and "TrustedDWG" inside drawing files converted to DWG format by various programs that use ODA's DWGdirect software libraries.
Part of Autodesk's complaint is that SolidWorks uses "DWG" in product names (including DWGgateway and DWGeditor), and that SolidWorks is attempting to gain copyright status for these names. There is legal precedent here: Autodesk owns a trademark on "TrustedDWG" and "RealDWG." But the precedent would seem to favor SolidWorks' right to use DWG in a product name, not in Autodesk's right to restrict its use.
CADCAMNET comments
We are sure good lawyers obsess over every word they write when filing a lawsuit in federal court. Which makes us wonder about the conversation that led to this subhead in the filing:
"Autodesk's DWGTM Technology"
Autodesk does not have the legal right to claim trademark on DWG. Doing so in its complaint to the court is a brazen misstatement. SolidWorks, no doubt, will jump all over in its reply to the court. Autodesk has recently also placed 'TM' after DWG throughout its website, in another attempt to bolster its claims.
There are other aspects to the complaint, not dealing with DWG, in which Autodesk might gain a court's sympathies, such as SolidWorks' use of the color orange (just like Autodesk Inventor) in marketing materials and product packaging, and the use of the word "real" in product marketing. But, without the continued haranguing over DWG that is the heart of this suit, the other complains are just too petty to have been brought to federal court by themselves.
Any business that owns a trademark is obligated to vigorously defend against misuse in the marketplace. If Autodesk already owned trademark status on DWG, this suit would have merit. As it stands today, this is a waste of court time.