$16.1 billion in sales, $4.5 billion profit, sales and profits up from last quarter.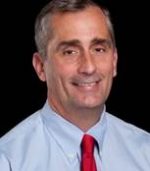 In its calendar Q3 2017, Intel reported that its revenues and profits were up and in all of its business centers and feels it is on track in its transition away from being a PC-only chip supplier.
"We executed well in the third quarter with strong results across the business, and we're on track to a record year," said Brian Krzanich, Intel CEO. "I'm excited about our progress and our future. Intel's product line-up is the strongest it has ever been with more innovation on the way for artificial intelligence, autonomous driving and more."
Third-quarter revenue was $16.1 billion. Excluding McAfee, revenue was up 6% year-over-year and data-centric businesses grew 15% year-over-year. The company said data center, Internet of Things, and memory businesses all achieved record revenue.
Intel also bragged that it had record operating income and record earnings per share (EPS), driven by strong data-centric growth, expanding operating margins and gains on the sale of equity investments.
As a result, the company has raised full-year business outlook for the third consecutive quarter. Full-year revenue outlook raised by $700 million to $62 billion; full-year GAAP EPS outlook raised by $0.27 to $2.93 and non-GAAP EPS by $0.25 to $3.25.
The CAGR for PC shipments for the past three years was -1.8%.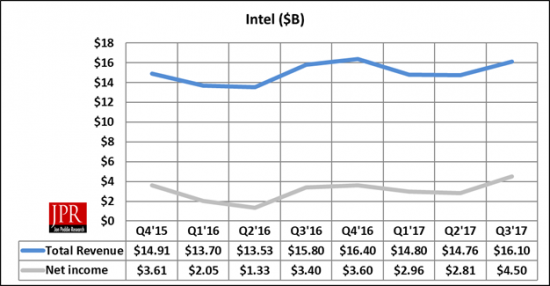 Spending for R&D and MG&A was $4.89 billion, down 16% from last quarter.
Client Computing Group
Intel's Client Computing Group, includes PCs and mobile, is still Intel's largest business unit and its springboard to larger markets in the data center and the Internet of Things. Intel's Client Computing Group had revenue of $8.2 billion, an increase of 12% year-over-year. Client ASPs were up 8% year-over-year, as the company's segmentation strategy led to rising Core mix. Intel claims that it, along with its customers and partners in the PC supply chain, is driving the evolution of the PC experience, as users seek out high performance and new form factors. The company is looking forward to shipping its 10-nm products near the end of 2017 with a lower volume SKU coming first followed by multiple SKUs and a volume launch in 2018. Currently, the company is riding the recent launch of the Intel Core X-series processor family including the Core i9 Extreme Edition processor. Intel says it has seen some modest improvements in the PC consumption but continues to expect a mid-single digit TAM decline for the full year.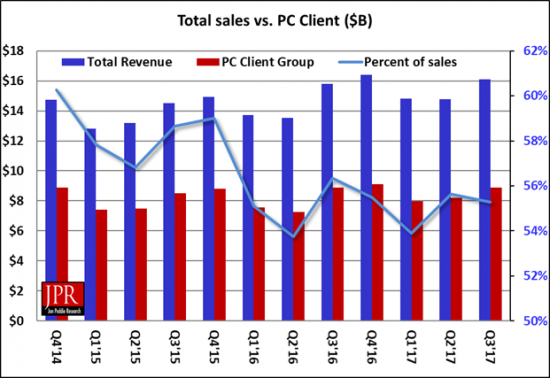 And in other business…
In the third quarter, the company says it saw strength across all businesses. The data center, Internet of Things and memory businesses all achieved record quarterly revenue, and Intel introduced the 8th Gen Intel Core and Intel Xeon Scalable processors. Intel says its FPGA business, the Programmable Solutions Group, is experiencing strong momentum, winning designs with automotive and cloud service provider customers that advance Intel's position in artificial intelligence. The company also furthered its autonomous driving efforts with customer wins and the completion of the Mobileye tender offer, four months earlier than expected.
What do we think?
Q3 PC shipments were up 10% from last quarter, about normal seasonality (see red line in the following chart).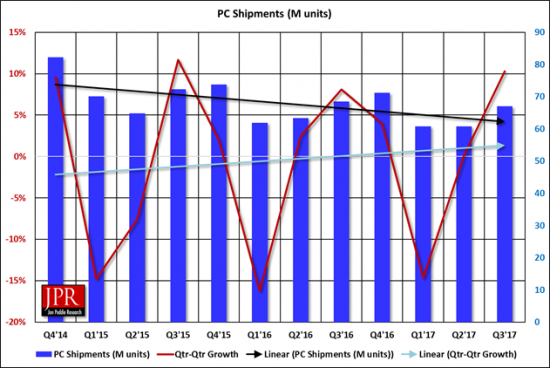 However, compared to last year, it was down 2%, which is significantly less than previous years, as illustrated in the following chart:
The year-to-year trend, however, will probably dip in Q4, again, this time due to a slow-down in block-chain buying. The add-in board and motherboard suppliers are already reporting reduced demand, so the gloom-and-doom-sayers will be covering their heads again while telling us about the sky falling.
The sky has been falling since 2011, and the PC market, in unit shipments, is now about the same shipment per year as it was in 2007. No one thinks it will go to zero, and no one knows when it will flatten out and begin to grow again. In the meantime, the PC suppliers are diversifying into other segments, so the declining PC market doesn't take them down with it.
The diversification efforts are being watched by Wall Street, and they are placing their bets accordingly, the following chart speaks for itself.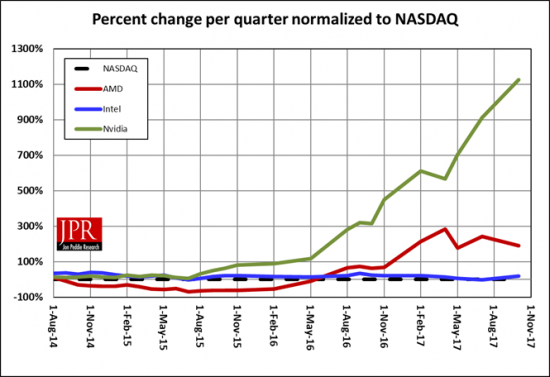 The stock market isn't the final arbiter for the market but its knee-jerk reactions to set up trepidations in the management suites where compensation is based on the share price.