Thirty hologram shots and 120 other visual effects were created at Cantina Creative using Maxon Cinema 4D  
The final installment in The Hunger Games film series (The Hunger Games: Mockingjay Part 2) takes audiences inside the capital city Panem for the first time. Compared to the miserable and primitive conditions of life in most districts, Panem is a treasure trove of high technology. The VFX team at Creative Cantina got the job of creating the digital content that created not only views of Panem and the rebellion's strongholds, but also many of the on-screen holograms, animated posters, monitor shots and user interface (UI) graphics that appear throughout the film.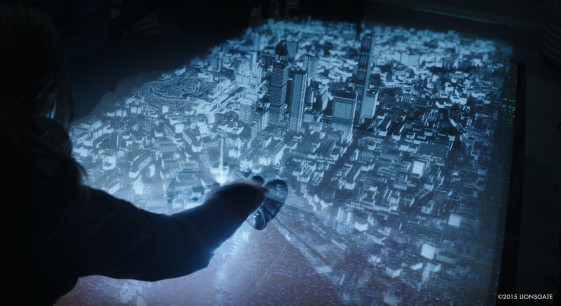 Maxon Cinema 4D was the central digital content creation tool for the project. "Our aesthetic reach in this film was much broader and required us to deliver a more advanced design style," says VFX Supervisor Jay  Grunfeld. "We were asked to create detailed 3D hologram content for the Capitol – marking the first time that The Hunger Games film audiences could get a close-up look at the capital city of Panem and the Capitol, its chief legislative building, as well as a collection of other Panem districts."
VFX Supervisor Venti Hristova says that the studio's primary focus on Mockingjay Part 1 was to generate interactive on-set monitor graphics that would stream live during shooting. For Mockingjay Part 2 the team was given a more extensive range of projects heavy on post-production work that included creating two main hologram effects and to composite hero monitor screens that required story specific information and animations to advance key plot sequences.
The Creative Cantina crew also got the job of generating the hologram for the "Nut," a strategic military compound located in an underground mountain bunker which houses all the military equipment for the Capitol.
Grunfeld says Cinema 4D provided "the creative flexibility to explore and tweak story notes throughout the project, critical in delivering a number of beautiful storytelling graphics on some very challenging design sequences." The team used Cinema 4D in combination with Adobe After Effects to generate external compositing tags and compositing project files throughout all of the hologram sequences.
The "Nut" hologram was particularly challenging; the Cantina Creative team had to deliver a fully detailed, 3D photoreal and precise mountain range with only a single 2D matte painting to use as reference.

3D artist Jayse Hansen works with Cantina in preproduction and on location to design the initial hologram: "Leveraging the landscape generator in Cinema 4D to block off shapes and the expansive sculpting tools in the software provided great creative latitude so that I could hand off a number of very precise hologram looks and models of the mountainous terrain surrounding the 'Nut' and Capitol from different perspectives."
Stephen Morton also worked on the 3D landscape topography for the hologram. "In addition to the sculpting tools which proved critical in allowing artists to further customize and organize the project in layers and work non-destructively to churn out dozens of iterations of mountain topography, we used Cinema 4D to render a number of passes, namely a few variations of cel renders, layered procedural shaders, and a depth map. We also exported light and null data to use for additional elements in comp," adds Morton. "The time effector tool was also extremely useful on the mountain hologram to rotate topography designs uniformly across nearly 30 shots in the sequence and made it easy to explore rotation speeds and successfully arrive at something that both the client and we were pleased with."