Dr. Jason Lemon was a true pioneer of the computer-aided design industry. This remarkable article by Peter Marks will touch your life and make you think even if you have never heard of Dr. Lemon before today. From the March 2007 edition of Engineering Automation Report.
By Peter Marks
Design Insight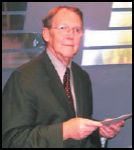 Dr. Jason A. "Jack" Lemon passed away December 27, 2006, after a long battle with cancer. Hundreds of Engineering Automation Report readers were undoubtedly touched by the man's achievements, whether during his tenure at the University of Cincinnati, as cofounder and Chairman of SDRC, or CEO and founder of ITI. Lemon was part teacher and part entrepreneur, fueled with energy, ideas, and optimism.
Professionally, his work divided into three careers. First, at a time when Cincinnati was still the self-proclaimed machine tool capital of the world, he led a team of university researchers investigating machine tool and other structures. One legacy of this work was the development of machine tool structures made of welded steel, with the same rigidity and resistance to vibration as more costly castings. The applications of modal analysis and testing technology soon extended to many other areas as well, from defense equipment to automotive and construction equipment.

Next, as a co-founder and CEO of SDRC (Structural Dynamics Research Corp.) he extended the work on structures and modal analysis, helped pioneer advancements in finite element analysis, created one of the first suites of engineering analysis software, helped coin the term CAE (computer-aided engineering), pioneered the combined use of test and analysis to solve engineering problems, and helped move CAD from 2D to 3D.
Later, as founder and Chairman of ITI, Lemon applied his systems approach to design and manufacturing. ITI was among the first companies to take CAD and CAE interoperability seriously, and is still a leader in that regard.
Impact on industry
The initial applications—welded versus cast machine tool structures—were successful but also gradually made less relevant as machine tool designs were copied and moved overseas. Similarly, US Steel (which was one of Lemon's early customers and had hoped to sell tons of steel for welded structures) had success with the technology—but it too became less relevant as it gradually lost its dominance to foreign competitors.
Other CAE applications are part of continuing success stories. Caterpillar was long a customer and ally of Lemon and SDRC. Indeed, the phrase Computer Aided Engineering came out of a meeting between Lemon, SDRC, and Caterpillar. Lemon later pulled together a team of SDRC employees (including me) to write the first paper on CAE. Over the years, Caterpillar has surpassed many of its US competitors and remains the world leader in construction equipment, largely due to the technical dominance they established by working with Lemon early on.
Perhaps the biggest early success for Lemon was SDRC's pioneering work with General Motors on the Cadillac Seville. This was the first smaller, nimbler, more energy efficient, and more European-in-design Cadillac. The time was the mid-1970s, just after the first Arab oil embargo. Weight reduction was a key, without sacrificing the quiet and comfortable ride to which Cadillac owners had become accustomed.
A combination of analysis and test was used and the resulting Seville was almost unanimously considered a "splendid car." As a point of comparison, it weighed about 800 pounds less than a Cadillac DeVille yet customers eagerly paid as much. This approach to automotive design is now the standard, and SDRC worked with many other automakers around the world. Today we still wrestle with many of the same issues that Lemon, the SDRC team, and GM faced in the 1970s—how do we get energy efficient cars that people want to buy and drive? Today's answers and designs owe a debt to Lemon.
Hundreds of other anecdotes could be told, regarding the creation of the CAE industry, Lemon's contributions to solid modeling, his work in developing 3D CAD, and his research in the use of analysis to improve machine tool performance and capability. Lemon pioneered methods for seismic qualification. He was largely responsible for the extension of computer aided engineering tools to new industries such as consumer electronics and medical devices. One can argue Lemon was responsible for the beginning of PDM and PLM, because of a deal whereby SDRC acquired the first relational database dedicated to tracking engineering information. The list of all his industry achievements could go on and on.
An amazing work environment
I had held quite a few jobs, including managing an engineering group at Ford Motor Company, before joining SDRC. So, I thought I had some idea of what work was about. It turned out that Lemon created an environment that changed most every notion I had about how companies could and should be run. At Ford, employees couldn't wait to leave at night. At SDRC people loved their work and the parking lots always seemed full, even late into the evening.
Lemon worked hard at empowering people. He hired carefully, and offered employees a wonderful mix of freedom, high expectations, and accountability. SDRC ended up with dozens of profit centers. Lemon was always tinkering with business organization ideas. He talked about business excellence, technical excellence, and people excellence—basically that we had to do the right things for customers first and then the money would follow. He wanted an upside down pyramid organization where the engineers were on the front line working with customers. The rest of us (e.g. executives and everyone else down in the inverted pyramid) were in a supporting role. He bought us books to read about change and innovation.
Lemon led by example. Hold a meeting with him in the boardroom and he was among the first to grab up the coffee cups and trash to clean up the room afterward. I can't help but contrast Lemon's approach to management with those currently held up as role models, including Donald Trump. Trump seems to have cultivated an image of making sure you feel bad about being fired. Lemon was about making sure you felt good about being hired. For the Trumps of the world it is all about Me. For Lemon it was all about what We can accomplish. Trump is about bling bling and conspicuous extravagance. The only time Lemon came close to being conspicuous was that for many years he drove a pre-production prototype of the Cadillac Seville he helped make a success. Most everyone seems to be beneath Trump's contempt. Lemon treated everyone with courtesy and respect. Surely there are lessons here on how chief executive officers should behave.
Perhaps Jason Lemon's greatest legacy is the thousands of professionals who have gone to make a difference in other companies. By one count more than a hundred high-tech companies have been founded or are now led by SDRC and ITI alumni.
Lessons, too, in what wasn't accomplished
It is said history is written by the winners. So the CEO?s at companies like Dell and Microsoft are the ones most likely to become role models. A common thread behind these companies is that visionaries like Michael Dell and Bill Gates pair up with executives like Steve Balmer and Kevin Rollins to run operations. Lemon was a classic imagine-it-and-they-will-come entrepreneur. He was perfect to take a company from idea to its first thirty million or so. Yet, he didn't have a passion for operations and, sadly, never found or trusted a Balmer or Rollins to take SDRC to the next level. He tried, selling a half interest to General Electric. However, in this case a company noted for management excellence simply failed.
Similarly, it can be argued that the SDRC board failed to find the ideal CEO to lead the company in the years after Lemon left to create ITI. Lemon's ideas and inspirational leadership style would be better known and appreciated had either SDRC or ITI gone on to greater heights. Ultimately, the man who was so generous and sharing of opportunity failed to share leadership at the next stage.
Ultimately, a learning environment
Part professor and part entrepreneur, Lemon valued continuous learning. He made sure continuous learning was part of the SDRC culture; there was a marginally profitable profit center aimed at creating internal and external education programs. SDRC won numerous national awards for its education programs along the way.
Lemon promoted education as a highly effective marketing tool. At one point, half of the company's new business came from executives who first attended one of the company's technology management seminars. Among SDRC folks there was a rivalry to give the best presentations—and thus a rush to see the attendee evaluations at the end of each program. Engineering executives in attendance at these seminars represented a Who's Who of manufacturing. I believe there are still lessons to be learned from Lemon's educational and consultative approach to marketing.
Today's PLM market offers two models for systems integration. At the low end, it is about buying stuff out of the box. At the high end, it is paying overpriced consultants to put the pieces together. Surely there is a middle ground of providing easier-to-integrate software and then training customers to create their own systems?
Ultimately, there is much we can learn from Lemon's example. Hopefully, a few more of us will come to know and act in the spirit of this legacy. Putting our customers first and teaming with them to solve problems. Truly empowering employees while setting high expectations. Going for substance rather than bling bling as the trappings of leadership. Broadly sharing the rewards of business ownership. Simply being decent men and women. Looking for at least two ways to solve any systems problem (test and analysis, design and manufacturing) and using them synergistically. Always thinking and innovating—and never stop learning. That was Dr. Jason Lemon's style.
Peter Marks is principal of Design Insight. He worked with Dr. Jason Lemon as a managing director at SDRC, and wrote the first book on the topic of Managing Computer-Aided Engineering Technology while at SDRC. He is a member of the Cyon Research Board of Directors.