Free utility converts Revit images to OBJ for use on holographic printers.
Architectural designers using Revit have a new option for presenting client visuals, with the release of 3D Hologram Creator from Zebra Imaging. The Revit plug-in is available for free on the Autodesk Exchange site.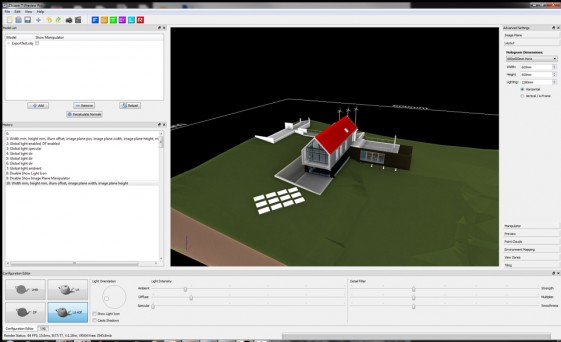 3D Hologram Creator extends the native file export capabilities of Revit's software to include OBJ files, the format required for holographic printing. The software will export all selected geometry in a 3D view along with any materials used in the scene.
With the 3D Hologram Creator plugin for Revit, users can visualize and create their hologram directly within the Revit application and export their design to Zebra Imaging all in a single afternoon. The hologram will then be created at Zebra Imaging's print center and shipped out anywhere in the world. Most projects are completed within five to seven business days of receiving the order.
Holograms are a new option to creating expensive, fragile, and bulky solid models that often take weeks to produce. Zebra Imaging says 3D holograms provide accurate portrayals of design projects that are ready to pass on to clients.
"Providing Revit users with the ability to create holograms from building models adds a new level of sophistication to design visualization," says Sasha Crotty, Revit Core Product Manager, Autodesk. "We're glad that the Revit community will be among the first to gain access to this exciting new presentation and design exploration technology."