Other additions include surface sewing and new or improved support for Rhino, OS X, JT, Parasolid, and ACIS.
Tech Soft 3D has updated Hoops Exchange, its library of CAD translation utilities available for licensing by CAD vendors and users.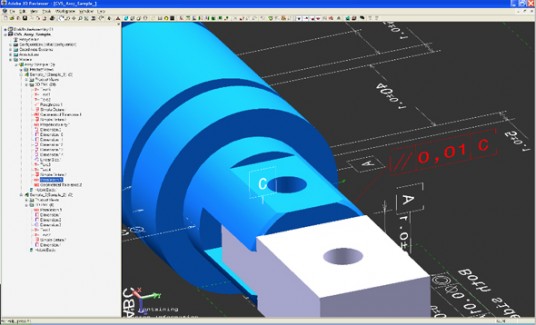 Key features in Hoops Exchange version 6.0 include:
3D PDF import: 3D PDF is expanding rapidly, particularly in the Defense and Aerospace industries. In response, application vendors are not only being asked to "publish" to 3D PDF, but to allow 3D model data to be extracted from within a PDF file. The new capability in Hoops Exchange builds on existing support for U3D and PRC (3D PDF formats), and permits applications to directly read 3D data from PDF files.
JT export support: Application developers are often asked to export as well as import files in the JT format, particularly in the automotive industry. To address this need, Hoops Exchange now provides the ability to export JT, including the full B-rep definition, without the need to license additional technology. This builds on Hoops Exchange's existing support for JT import.
Parasolid and 3D ACIS Modeler data preparation (healing/cleanup): New operations prepare imported data to better support modeling operations in the Parasolid and ACIS modeling kernels.
Sewing options: Application developers can now use sewing routines to join unconnected surfaces into a solid. Sewing a surface model into a solid improves the performance and usefulness of the model in downstream application industries such as Inspection or CAE. This is of particular importance for applications that need to read IGES files.
Rhino import: Hoops Exchange now supports import of the popular Rhino 3D format.
OS X support
For more information: http://www.techsoft3d.com/our-products/Hoops-exchange