Google Glass is out, Sony Smart Glasses are in.  
Google has given up on this round of its Google Glass experiment. The com­pany has announced it is ending the Explorer program and it will spin out the Google Glass group as a stand­alone project headed by Tony Fadell, formerly of Apple and founder of Nest (acquired by Google). Monday, January 19, was the last day to buy the Explorer version of Glass. If ever there was a product that highlight­ed Google's complicated relationship with marketing, this was it. The com­pany emphasized the high-end cachet of the product and restricted sales to invitees—sensible, really, since these are early days for heads-up displays. But the plan just didn't work out right, and even Google adopted the term glasshole to describe ostentatious jerks wearing Google Glass.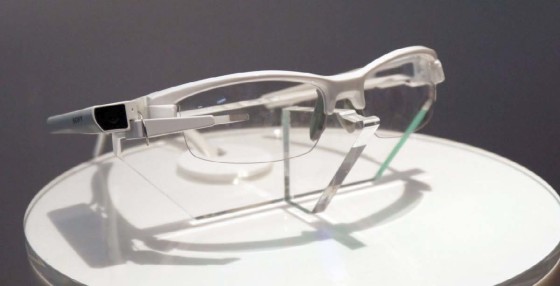 The company says the company now plans to focus on future versions of Glass. They may well find Vuzix has gotten there before them. Founded in 1997, Vuzix has been developing smart glasses as an industrial tool and has added on more commercial options.
The company has also gotten a $25-million-dollar investment from Intel, which gives Vuzix some breath­ing room and Intel a 30% stake in the company. According to the company's financial results, Vuzix didn't have a lot of room left after suffering routine loss­es and a big hit in 2014. The company ended the year with just over $550K in the bank account and admitted they'd be challenged going forward.
On the bright side
Vuzix has been a regular at CES and wins its share of awards. This year it stocked its booths with the fol­lowing:
The V-720 Mobile Gaming Platform, video headphones designed to work with the Nvidia Shield portable. Gam­ers get an HD 720p display with a wide field of view. The company says it's the equivalent of a home theater's 130-inch screen viewed at 10 feet. It has HDMI support, so users can also access their phone, tablet, console, PC, and Blu-ray player.
M100 Smart Glasses, a wearable com­puting device, and probably the most di­rect competitor to Google Glass. The display plus video-capture head-mount is designed to pair with mobile devices to provide a heads-up display for text, video, email, mapping, and augmented reality. It's Android-based and gesture-controlled. This is being used in indus­trial applications, and the company says it is complemented by "thousands of ap­plications" with more in development.
The Smart Glass Frames for M100 were also at CES. Vuzix has partnered with Rochester Optical, and the frames come in a full range of prescriptions and styles.
Vuzix has worked with partners to develop several base applications to complement its hardware, including:
XOEye, a Linux platform for the M100 developed with XOEye Tech­nologies. It's designed for manufactur­ing construction, field services.
APX Technologies, which makes the Skylight toolkit and apps for wear­able displays including the M100 and Google Glass. APX and Vuzix teamed with Salesforce for the Salesforce Wear initiative, and the two compa­nies came to CES with Skylight for the M100.
LiveCast offers live video streaming for the M100 smart glasses.
Nokia, for a mapping and loca­tions services engine embedded in the M100 smart glasses.
Waveguide enables full-color wide field of view imagery for thin lenses. The technology enables the develop­ment of fashion glasses incorporating information displays. The companies showed new prototypes including a binocular-based system.

Vuzix has been there all along; it was active in the first round of VR and has been built on the remains of Forte Tech­nologies. The company has survived with military contracts and industrial apps. Interest in the company has definitely picked up since Intel's vote of confidence with an investment, but so far it has sur­vived by finding the applications people are willing to pay for and not forcing a market where there is none.
Sony OLED display for glasses
At CES 2015 Sony showed its Smart­EyeglassAttach! Concept. The company demonstrated a single-lens clip-on dis­play module for glasses, which can turn any pair of glasses into a heads-up display like that offered by Vuzix or Google Glass. Sony promises a software development kit (SDK), and the module will be produced in 2015.
The system has been enabled by So­ny's work in displays. Last summer Sony announced their breakthrough develop­ment for OLED, a .23-inch 640 x 400 (nHD+) OLED microdisplay, which fea­tures a pixel pitch of 7.8/m and 110% NTSC color gamut for wearable devic­es. Sony compares this display to their previous 0.5-inch product and promises higher performance and a high contrast ratio. It has gone from 10,000:1 for the .5-inch to 100,000:1 for the .23-inch. The brightness has been increased from 200 to 800 cd/m2 while power consumption has been slashed to 400 to 140 mW. Sony has increased perfor­mance by using a different RGB color filter to change the shapes and positions of the sub-pixels, giving Sony the ability to increase the aperture ratio. The com­pany was also able to improve the emis­sion intensity of blue to yellow colors.
Sony clearly has the technology, but its first run at the idea is bulky with two boxes on the left and right sides of the head. The boxes contain a Cortex-A7 processor, 400mAh battery, Bluetooth, and WiFi. The two-sided modules are connected by a wire that goes behind the head. So far, it's obviously not ideal, but it's flexible and Sony has demon­strated it has the display technol­ogy for a lightweight heads-up display.
HP teams with ZSpace for HP Zvr display
HP has introduced what they are calling a virtual reality display, the HP Zvr, and targeting it toward a variety of applications including education, manu­facture, architecture and healthcare. The Zvr combines a 3D display, 3D glasses, and stylus to enable objects to be ma­nipulated in 3D space. The device is a favorite showcase for Dassault's health­care applications.
The system is based on a 23.6-inch diagonal full HD2 stereoscopic display. The size and the form factor are perfect for 3D viewing. Unlike a living room TV, operators work in front of the dis­play so they get a clean 3D view. Truth­fully, this looks to us like the ZSpace product prancing around with an HP brand. Nothing wrong with that; it should stimulate more business for this company, which has been working hard to educate customers about the value of 3D interaction.
At the same time, HP introduced new specialty displays including 4K and 5K UHD displays and the HP Z34c, HP Envy 34x, HP Elite Display S270c, and HP Pavilion 27c curved displays.
At CES, HP unveiled the Zvr as part of a series of displays. HP, like other display players, are rolling out 4K (Z27 and Z24) and 5K (Z27q) ultra-high-definition models.