AMD says their multi-user partition approach to workstation virtualization will be more desirable than current options. They plan to show off the technology at the JPR VIRTUALIZE conference in October.
By Jon Peddie
AMD admits they are a little late to the virtualize party, but claim they did it deliberately to assess the market, get feedback from the customers, and build what they (AMD and the customers) wanted. It is a custom solution, claims AMD, not just a repackaged GPU with a bunch of marketing (ouch).
This new solution from AMD, says the company, enables a virtualized workstation-class experience with full ISV certifications and local desktop-like performance. AMD says their multiuser GPU solution will allow IT pros can configure the GPUs to allow up to 15 users on a single AMD GPU. AMD demonstrated its virtualization solutions today at VMworld.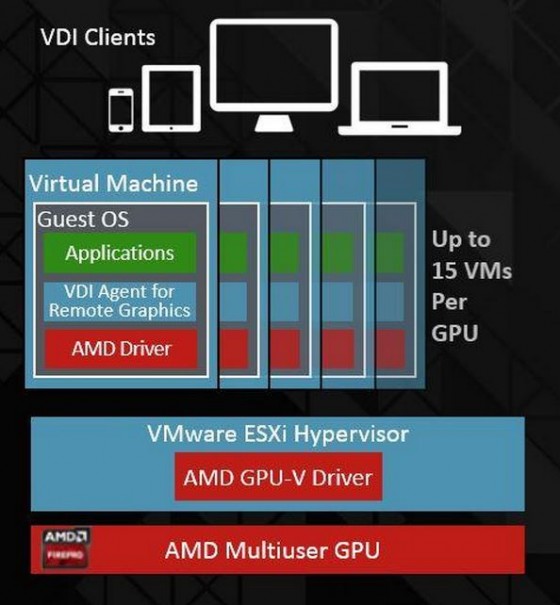 AMD says their add-in boards (AIBs) are equipped with special multiuser technology embedded into the GPU, and through its use can deliver consistent and predictable performance. When appropriately configured (to the needs of an organization), end users get the same access to the GPU no matter their workload. Each user, says AMD, is provided with the virtualized performance to design, create and execute their workflows without any one user tying up the entire GPU.
Based on SR-IOV (Single Root I/O Virtualization) technology, AMD says their multiuser GPU continues AMD's embracing of non-proprietary open standards. SR-IOV is a specification developed by the PCI SIG, and provides a standardized way for devices to expose hardware virtualization.

AMD thinks their multiuser GPU addresses limitations of current virtualized GPU solutions, which may not provide predictable performance for CAD/CAE, Media & Entertainment, and general enterprise GPU needs.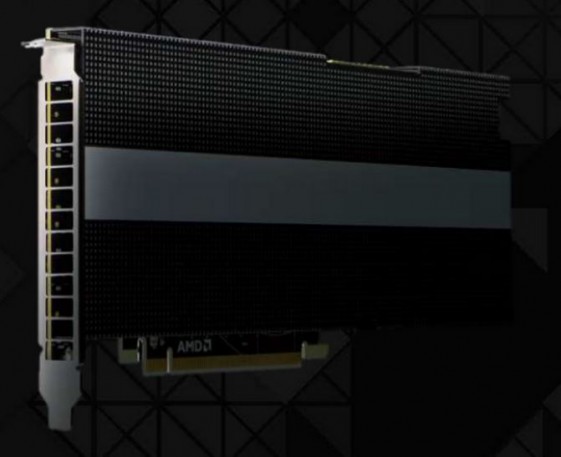 Claiming to be created for GPU-accelerated workflows such as GPU compute and OpenCL, AMD says their approach is designed to overcome the limitations of software-based virtualization such as reduced end-user performance. Users have access to native AMD display drivers for OpenGL, DirectX and OpenCL acceleration, enabling work without restrictions.
The multiuser GPU is designed to work in environments using VMware vSphere/ESXi 5.5 and up, with support for remote protocols such as Horizon View, Citrix Xen Desktop, Teradici Workstation Host Software and others. It uses VMware's VIB driver with VMware certification, and AMD says no changes from pass-through are needed to run on vSphere/ESX 5.5 or vSphere/ESX 6.0. Other hypervisors with SR-IOV support can be enabled in the future.
AMD says the AIBs for multi-user virtualization will be available to OEMS in Q3 2015.
What do we think?
We asked AMD if they plan to build a rack-mount unit as Nvidia has done with their Grid product. AMD said no, they did not want to compete with their customers and would support their customers in the development of such chassis. So there won't be any specific AMD Virtualize boxes in the immediate future. However, we can envision AMD developing a generic box for white-box, tier three server suppliers, and VARs who want to offer a turnkey solution with virtualization.
AMD's approach to specific GPU deterministic partitioning, rather than a dynamic load-balancing approach like Nvidia offers, is bound to have adherents. AMD said they did it based on feedback they got from users. AMD claims their direct hardware solution offers better throughput, and tighter communications with the drivers and hypervisor, and points out one user cannot affect another user's GPU performance.
AMD will be showing this technology at the JPR Virtualize conference in San Francisco on 29 October: https://jonpeddie.com/events/details/jpr-virtualize-2015