New stair design system in ArchiCAD 21 relies on PredictiveDesign technology.
Graphisoft is the CAD software company with a remarkable beginning. Proto-capitalists working in communist-run Hungary smuggled in an Apple computer in order to write architectural software. The software became ArchiCAD, and ArchiCAD begat BIM. A couple of decades later, it's the software that Autodesk and Revit have to contend with in Europe and Japan. Europe as a strong market for a fellow European company makes sense, Japan less so. A story making the rounds tells of how Autodesk lost the Japanese BIM market to Graphisoft at the high end, and Vectorworks (USA) to SMBs (small- and medium-size businesses). Both firms are owned by holding company Nemetschek, of Germany.
After feeling insulted, the CEO of a very large Japanese architectural firm switched his attention to ArchiCAD, and much of the rest of the country followed. Now Graphisoft develops its software by actively taking advice from Japanese design firms like Nikken Sekkei, the largest in Japan and fourth ranked in the world. (See figure 1.) Respecting the customer works for Graphisoft, it saw sales in Asia last year increase by 40%.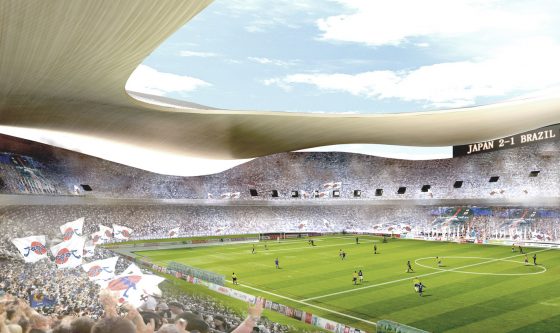 Graphisoft hosts an annual Key Client Conference, switching it between locations in Japan and Europe. This is when Graphisoft lavishes night parties on its customers, encourages them to talk about their accomplishments to their peers, and shows off the latest release of its ArchiCAD software.
At this year's event in Kyoto, Japan, some of its customers showed off truly stupendous projects. The most expansive was Australia's new four-million-square-foot Sunshine Coast University tertiary teaching hospital that costs nearly AUS$2 billion to construct and equip. It was designed by HDR | Rice Daubney, a dual-CAD firm. Owner HDR uses Revit, while recently-acquired subsidiary Rice Daubney uses ArchiCAD. The two worked out a method to use both CAD systems, communicating between them using IFC (Industry Foundation Classes) files. Rice Daubney found that it could fit the entire multi-story 3D model into a single 14GB ArchiCAD file, which up to 40 designers accessed at one time. By contrast, Revit is notorious for becoming unworkably balky when working with large models, but many governments expect models to be submitted in RVT format.
Nearly every firm presenting at the conference employed Robert McNeel's Rhinoceros and/or Grasshopper software to drive and calculate early design studies. As a result, Graphisoft CEO Viktor Varkonyi committed at the conference to expose even more of ArchiCAD's APIs to Rhino-GH (as the duo are known) so that the pair can make changes to the ArchiCAD 3D model ever later in the design process — again, this was at the request of its Japanese customers.
What's new in ArchiCAD 21
The double-entendre marketing slogan for ArchiCAD 21, "step up your BIM," refers to the improvements generally; but more so the highlight feature: a new stair design system that relies on PredictiveDesign technology. In short, it turns any shape into a stair, taking into account local standards. At the conference, we saw some spectacular stairs designed with the new tool. (See figure 2.)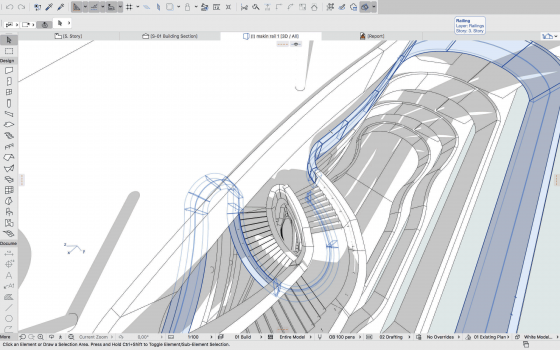 During the event, Autodesk sent a message to one of the editors reporting from the conference, complaining that Revit also does stairs. "But not stairs like these stairs," the editor replied.
Stairs are no good without railings, and so another new tool associates railings with complex stairs with a single click, as well as with other elements, such as slabs (floors, typically), roofs, meshes, and so on. The Railing Pattern Editor defines how railings look, and updates them automatically.
"PredictiveDesign" is Graphisoft's name for their artificial intelligence technology, something that several other CAD vendors are also slowly adding to their systems. Graphisoft says their AI will extend to additional areas of ArchiCAD in upcoming releases.
There were two more new features that I found significant. ArchiCAD now has collision detection built in, and it displays IFC files as underlays — updatable reference files that Graphisoft calls "hotlinks."
ArchiCAD is little known in North America, just like many other European CAD programs. In some cases, culture does not translate well, or else the marketing is ineffective; in the case of BIM, however, once one CAD vendor gains a stranglehold on a region, competitors are effectively locked out. So while Autodesk dominates areas like North America and England, Graphisoft is content with Europe and Asia.
More information: http://www.graphisoft.com
[Disclosure: Graphisoft provided me with airfare, accommodation, and some meals.]