Net income was up 7%; no specific trends marked the quarter.
[Editor's Note: Unless noted, all Euro amounts are in constant currencies, a way of accounting for variations in currency values over time when making revenue comparisons.]
Dassault Systemès (OTCMKTS: DASTY) reported a comfortable third quarter, with total revenue up 9% from a year ago. Strong results in Asia overcame sluggish revenue growth in Europe and the Americas. Overall, no specific trends stood out as anything more than business as usual for the largest dedicated vendor of PLM and related software for design and manufacturing.
Total revenue was €735.2 million ($796.3 million), up 9%. Software revenue was €646.8 million ($703.6 million), up 9%. Services revenue was €88.4 million ($ 96.2 million), up 6%. Net income for the quarter was €113.1 million, up 7%.
Quarterly software revenue by regions:
Americas, €194.8 million, up 6%

Asia, €189.0 million, up 18%

Europe, €263.0 million, up 5%.
In the Americas and Europe, the year ago results were stronger than usual, affecting the year-over-year compare. China and South Korea were revenue leaders for Dassault in Asia; Southern Europe was stronger than usual.
Revenue by product lines and brands:
Catia, €237 million, up 7%

Enovia, €77 million, up 10%

SolidWorks, €152.2 million, up 12%

Other software: €180.1 million, up 8%.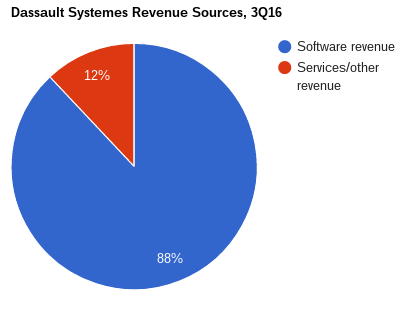 Dassault says the percentage of software revenue from the "3DEXPERIENCE" branded products and portfolios was up 38% year-over-year. These products blend a variety of existing products and brands; the exact revenue was not broken out. "Other Software" also includes revenue from DraftSight, the 2D CAD software sold and distribited for free by the SolidWorks division. At the annual meeting of the company that provides the core software for DraftSight — Graebert GmbH of Berlin — it was disclosed that DraftSight now has more professional users than SolidWorks.
Other tidbits shared during the conference call with analysts:
New license revenue for the Enovia line of data management were up 27% for the quarter (year-over-year) and up 30% year-to-date from 2015.

New license revenue for the Catia line was up 7% year-over-year.

New license revenue for the SolidWorks line was up 14% year-over-year.

Groupe Renault seat count of DS software hit the 10,00 user milestone.  
During the quarter DS completed the acquisition of CST, a maker of electromagnetic simulation software. DS said it will integrate the technology throughout its product line, to increase its multi-physics simulation and analysis capabilities. CST Studio Suite is currently used by more than 2,000 companies in high tech, transportation, aerospace/defense, and energy to evaluate electromagnetic effects.