Both the GrabCAD public library and a user's private workbench projects are accessible. 
GrabCAD today announced the release of the GrabCAD Android app, allowing Android users to view 3D Computer Aided Design (CAD) models on their mobile devices. The CAD collaboration site says the app is the first application for the Android operating system that allows users to view files in any major CAD format, enabling millions of Android users to access CAD models while away from their desks.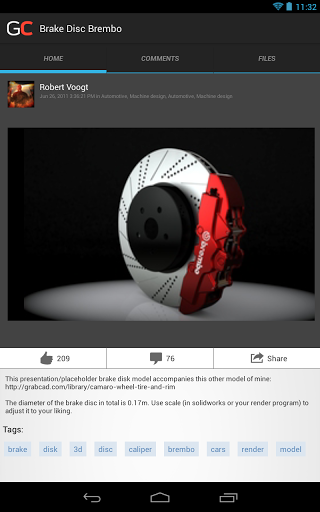 The GrabCAD mobile app allows access to both the public GrabCAD library, with more than 200,000 models, and GrabCAD Workbench, a member's personal CAD model storage area where users can share models privately with selected team members. The free app is now available at Google Play.
Application features include the ability to:
View CAD models in full 3D, regardless of the format they were created in
View and respond to comments that Workbench collaborators have made from any device
Upload photos to a Workbench project.
GrabCAD's marketing VP Rob Stevens says the top user request has been the ability to connect with Android devices. The company has previously launched an iOS version for Apple mobile devices, available at the Apple App Store. Both applications are free to download and are available today.
Our take
Since getting venture capital funding in 2012, GrabCAD has been on a growth tear. Having access to CAD models for viewing and managing the collaboration process further enables the GrabCAD vision of open engineering.
As we reported recently, GE is using GrabCAD as the home for an incentive competition seeking a new design for a jet engine part. Instead of one engineer or one team hired and paid upfront to work on a project where innovation is hoped for but not guaranteed, now hundreds of engineers—acting alone or in teams—are working on the project with hopes of coming up with an innovative answer GE will reward. (See "GE launches crowdsourcing design challenges with $130,000 jackpot.")
Open engineering is about leverage. A manufacturer in Long Beach can now engage the services of a single engineer sitting in Belarus or Chile—and a thousand others across the globe—for less than the cost of hiring one engineer for a year.  To make such an idea reality requires a tool kit, one GrabCAD is only too happy to provide.
Mobile apps specifically enable this collaborative process by shortening feedback time. A project participant does not have to be at her desk to participate in the design process. Stake holders who comment but not create are free to do so on their terms.