Run thermal studies, and probe internal locations for thermal stress.
The January update to Autodesk Fusion 360 includes new thermal and thermal stress analysis capabilities. Other upgrades include improvements to modeling, collaboration, and rendering.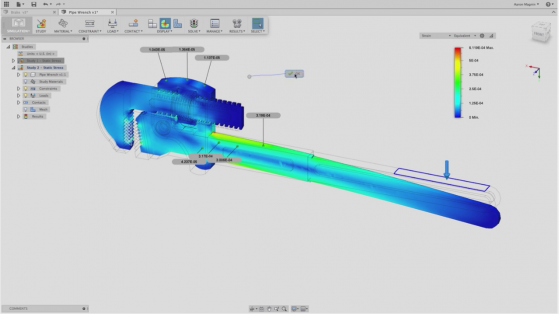 The Simulation workspace now has Thermal and Thermal Stress functionality in the Studies selection panel. Thermal Study allows analysis of temperature distribution in a design caused by heat input and out. Thermal Stress Study allows a user to see areas of a design more prone to stress caused by change in heat.
A related new feature is Simulation Post Processing. Fusion 360 now offers three new ways to interrogate simulation results, Point Probe, Surface Probe, and Slice Plane features.
New modeling features include:
Associative Offset: When creating a new offset sketch, it updates when you make changes to the original sketch it was based on. You can also select whether you want a single, partial, or full loop offset, and select multiple sketch curves.
Sketch Midpoints: You can now get access to Midpoints when adding dimensions and constraints.
Sculpt (T-Splines) Freeze and Unfreeze: When working with T-Spline bodies in the Sculpt workspace, you can now freeze areas of the body so that edits to the body will not affect the frozen area.
Insert DXF directly into a Sketch: It is now possible to insert a DXF file into the Sketch environment without needing to upload it to the Data Panel first.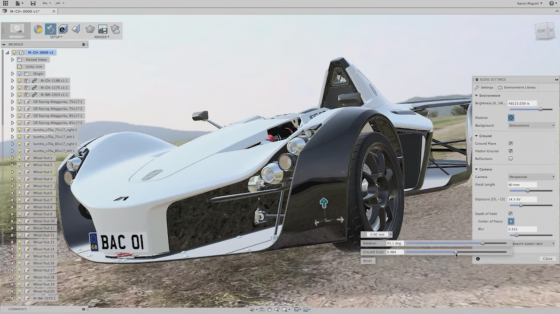 Other new features in this update:
Data & Collaboration: 2D Measure has been added to the Fusion 360 mobile app, and Measure, Mark-Up, and Redline are now available in the 3D web viewer

Commenting functionality between Fusion 360 and A360 has been improved, with mark-up and redline, commenting on a specific entity or object, and adding numerical annotation.

DWG Export for 2D Drawings is now available from A360.

Imported Materials now show RGB values, making it easier to identify the material color.
What do we think?
I love a good horse race. But when a race becomes one challenge match after another featuring two evenly matched thoroughbreds, that's even better. Fusion 360 and Onshape are in a class by themselves right now; the competition between them is good for the two companies, good for all current and potential users of cloud-based MCAD, and good for the CAD industry. A new generation of engineers and designers will mature in their skills and capabilities, in stride with how these two products grow.