PrimeSense and Open NI are leading the next wave of 3D sensor applications.  Everybody wants in on the act.
PrimeSense, no stranger to Siggraph, demonstrated their new Capri sensor in the OpenNI Booth. The tiny next-gener­ation embedded 3D sensor PrimeSense hopes will power mobile 3D sensing applications was demo'ed on a Nexus 10 tablet.
The company showed applications with AR, games, and 3D scanning. The PrimeSense NiTE middleware will be there as well, to track your motions. Delicode's motion-based software, used in the performing arts industry, showed its Z Vector depth video and vi­sualization software based on OpenNI SDK and powered by PrimeSense Car­mine 3D sensor, with a begging bear.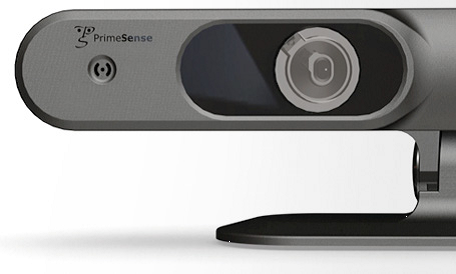 Studies recently performed in Shang­hai, China, indicate people are over 10 times more likely to make a chari­table donation to a cute money-begging panda than to a human. This has led the World Wildlife Fund to seek meth­ods of using the so-called "Puppy Eyes" technique in a wider fund-raising effort.
Meanwhile, recent DARPA (Defense Advanced Research Projects Agency) funding for Delicode has produced a next-generation mechanized panda with two high-powered lasers installed into the panda's eye sockets. So the next time you're thinking of walking past a fund-raising panda, think twice.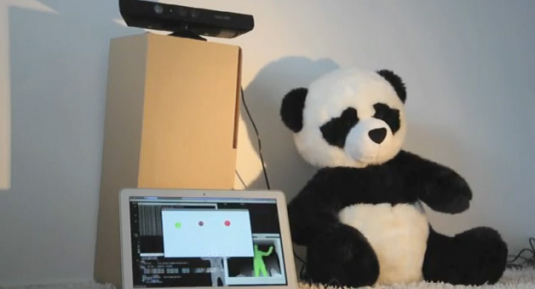 In addition to working with Microsoft on the original Kinect, PrimeSense has also worked with Asus on the Xtion motion sensor for PC, as well as robotic tools and 3D scanners.
PrimeSense has led an open source SDK called NI. With more than a mil­lion downloads of OpenNI's SDK, all kinds of applications are being devel­oped. At the conference, PrimeSense hosted developer partners Delicode and Van Gogh Imaging with their amazing 3D middleware and applications.
Our take
Everybody wants to get in on the act. The Wii was the first to show ges­ture sensing, Microsoft followed with PrimeSense Kinect, and then Sony jumped in using their EyeToy technology. Then in 2010 Microsoft surprised us (and certainly PrimeSense) and bought the gesture-sensing company Canesta.  Intel just bought Israeli gesture-con­trol startup Omek Interactive for $40 million, and Leap has come out with their unit.
Even Qualcomm, the smartphone-maker, is getting into the game. In 2011, the company purchased GestureTek, an­other gesture-recognition startup.  And Belgium-based SoftKinetic of­fers gesture-recognition hardware and software for real-time range imaging (3D) cameras (such as time-of-flight cameras).
ABI Research's new study forecasts that 600 million smartphones will be shipped with vision-based gesture rec­ognition features in 2017. Apple's iOS 7 beta includes new head gestures that enable users to con­trol their iPhones by moving their heads left or right. Rumors about Apple being in nego­tiations to buy PrimeSense are just not true. At least that's what we've been told.