The popular look-and-lighting tool also adds new support for Renderman, V-Ray, Arnold, and 3Delight.
The Foundry's popular professional look development and lighting tool Katana is now available on Windows. Until now only available on Linux RHEL Centos 6, Katana 2.5 will also support 64-bit Windows 7.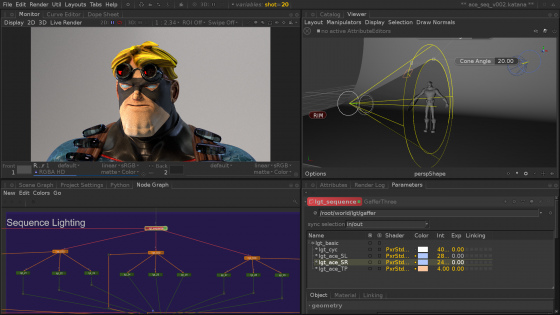 Katana is used in VFX, broadcast, and animation as a post-processing tool for final lighting. It uses a recipe approach to establishing lighting, making it easier for users to establish a lighting profile that can be reused in other scenes or projects.
Also new in this update is plug-in support for use with popular 3D content creation software tools Renderman, V-Ray, Arnold, and 3Delight.
Named customers who use Katana regularly include Industrial Light & Magic, Pixar, and Atomic Fiction. "Katana has become the bedrock of our pipeline," said Kevin Baillie, co-founder at Atomic Fiction. "Big scenes, experimental lighting set-ups, we can throw anything at it and it'll give us production-ready results that we can share up and down the chain."
Katana 2.5 released on July 14 in open beta; commercial release will follow in a few weeks.