AMD takes a sliver of market share from Nvidia and Intel.
Shipments of graphics chips slipped slightly in the first quarter of 2012, according to the latest market research report from Jon Peddie Research (JPR). Total shipments were down 0.8% sequentially and down 3.4% from the first quarter of 2011. Despite the total decline, AMD gained a sliver of market share against rivals Intel and Nvidia.
Although it did not shape up to be a great quarter for the suppliers, JPR says it wasn't as bad as it could have been. Shipments during the first quarter of 2012 behaved according to the trend of past years with regard to seasonality, declining from the previous quarter. The first quarter's decline of 0.8% was less than the ten-year average of 3.1%. If we use graphics as an indicator, the industry seems to be recovering from the floods in Thailand, where many of today's graphics chips are manufactured.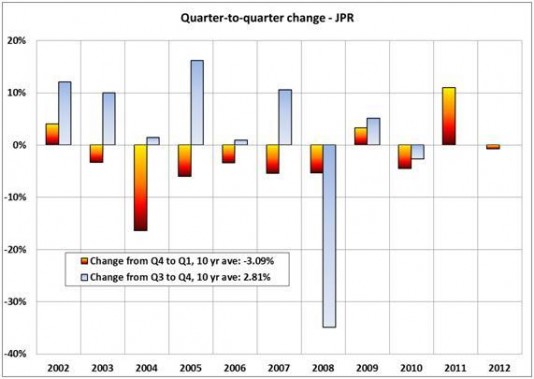 Graphics chips (GPUs) and chips with graphics (IGPs, APUs, and EPGs) are a leading indicator for the PC market. At least one and often two GPUs are present in every PC shipped. It can take the form of a discrete chip, a GPU integrated in the chipset, or embedded in the CPU. The average has grown from 123% in 2001 to almost 133% GPUs per PC.
Highlights of the quarter
AMD had a major increase in shipments of its desktop APUs of 84% and a modest 2.6% decline in notebook APUs.
This quarter, Intel celebrated its ninth quarter of shipping its Embedded Processor Graphics CPU-EPG, a multi-function design that combines a graphics processor and an x86 CPU in the same package. These devices include the Core i series, and Atom processors in PCs. Intel's desktop EPG shipments had strong double digit growth of 18%, while notebooks gained a more modest 2.1%. Combined with a decrease in overall IGP chipsets shipments, Intel came in for the quarter with a -1.3% drop from Q4.
Nvidia shipments dropped 4.5% from last quarter, partially due to the phase out of IGPs. The company will no longer report IGP shipments.
Year-to-year in the first quarter AMD shipments declined 1.2%, Intel shipped 4.67% more parts, while Nvidia slipped -26.3% in the overall market as they withdraw from the integrated segments, and VIA saw their shipments increase by 51% over last year and 148% over last quarter.
A little over 123 million graphics chips shipped, down from 124 million units last quarter, and down from 126 million units shipped this quarter a year ago.
Discrete GPUs increased 2.7 % from the last quarter but were down 11% from last year for the same quarter.
93% of Intel's non-server processors have graphics, and over 79% of AMD's non-server processors have integrated graphics.
Our findings include discrete and integrated graphics (CPU and chipset) for Desktops, Notebooks (and Netbooks), and PC-based commercial (i.e., POS) and industrial/scientific and embedded. This report does not include handhelds (i.e., mobile phones), x86 Servers or ARM-based Tablets (i.e. iPad and Android-based Tablets), Smartbooks, or ARM-based Servers.

The 1Q12 edition of Jon Peddie Research's Market Watch is available now in both electronic and hard copy editions, and sells for $2,500. Included with this report is an Excel workbook with the data used to create the charts, the charts themselves, and supplemental information. The annual subscription price for JPR's Market Watch is $4,000 and includes four quarterly issues. Full subscribers to JPR services receive Tech Watch (the company's bi-weekly report) and a copy of Market Watch as part of their subscription. For information about purchasing Market Watch, please call 415/435-9368 or visit the Jon Peddie Research website at www.jonpeddie.com.