Commercial and agricultural manufacturer CNH needed a better way to study noise reduction strategies. The solution was found in MSC Actran.
Commercial and agricultural vehicles are built for work, not personal use. Compared to automobiles, big trucks, tractors, and construction vehicles generate much more noise. It is important for drives to hear their motors, but at the same time too much noise can be uncomfortable and distracting.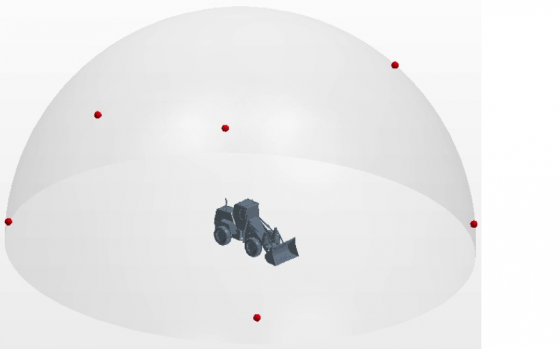 Most national governments regulate the amount of noise commercial vehicles can produce, but the standards vary by country. For example, India has a large base of commercial vehicle manufacturing, but the national noise standards there are more generous than in many Western nations. New capabilities in engineering simulation software are making it easier for manufacturers to test for each country's standards.
CHN is a global manufacturer of commercial and agricultural vehicles and other heavy equipment with a significant manufacturing presence in India. Recently a key Latin America market tightened its noise regulations for such equipment. CHN was required to reduce the noise level of their machinery to the allowed decibel point regarding the machine's size and power, for specific models sold into that market.   
CHN (formerly Case New Holland) ran physical tests and discovered much of the noise comes from the fan. The vehicle in question has a large motor, so the fan is also large. The amount of repetitive testing to observe, adjust, and test was becoming expensive in time and money, and provided limited data; engineers were relying more on assumptions and guesses than confirmed data.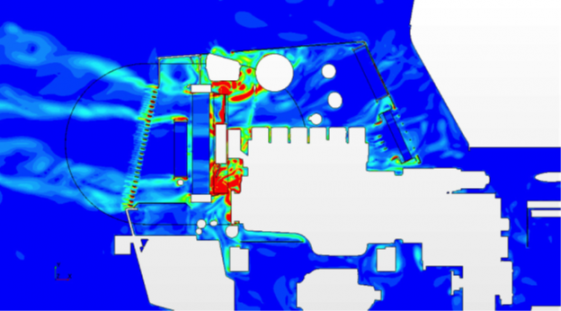 CHN had engineering simulation software in-house, specifically finite element analysis (FEA) and computational fluid dynamics (CFD) tools, but they were not up to the task of solving their noise problem. Acoustics is a complex engineering discipline; more specific tools were required. "We have for a long time been able to simulate noise sources with computational fluid dynamics (CFD) but we did not have an accurate method to simulate the propagation of noise generated by these sources" says Dr. Panos Tamamidis, Global Manager, CFD, NVH and Acoustics for CNH Industrial.
Tamamidis and his team tested the problem in Actran from MSC Software, the California-based vendor of engineering simulation solutions. After running one set of acoustic tests in Actran, the engineering team found the results to be more accurate than what they were getting from physical testing, and they had a full understanding of what needed to be done next to fix improve fan performance. One key finding was that the biggest part of the noise was coming from blade-pass frequency, and a comparatively smaller amount from broadband noise.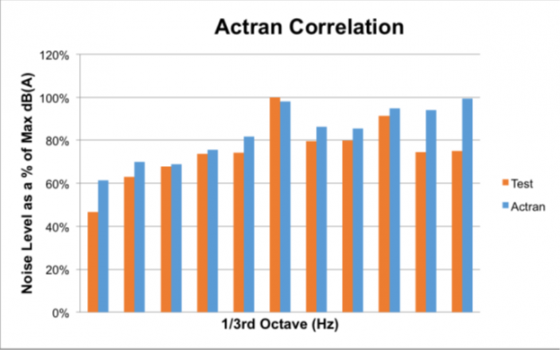 The engineers then tried several fan styles and blade types in various combinations, applying iterations of CFD and acoustic simulations each time. They found a solution that simultaneously reduced blade pass frequency and broadband noise. They also used Actran to design an efficient muffler that would also reduce total noise generated.
Tamamidis says the addition of acoustic simulation was the key to CNH meeting the new regulation. "Simulating the acoustic performance of alternative approaches to noise remediation helped us meet the tighter noise specification in about three months" Tamamidis said. "If we had to rely on physical testing for this project, it would have taken at least a year to reduce noise to the levels needed to meet the new spec. Due to successful projects such as this, we have integrated Actran into our product development process and use it on a regular basis to help ensure the acoustic performance of new designs and solve problems with existing designs. "