Processing facial motion now takes minutes, not hours; no more paying by the second to export data.
One of Hollywood's top makers of 3D facial motion capture technology is now shipping updates to its entire product line. Faceware Technologies develops markerless 3D facial motion solutions to capture, analyze and transfer human emotion into digital facial performances. Most recently, Faceware products were used on the top-selling video game Grand Theft Auto V.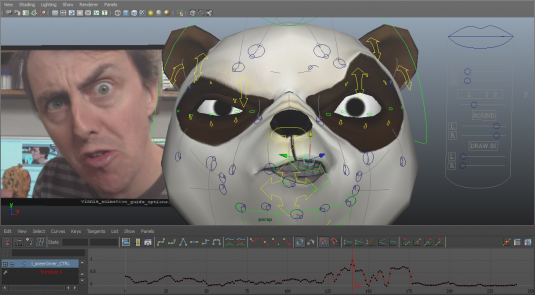 The new product line includes two versions of Analyzer and Retargeter software, along with two headcam options, an entry-level GoPro Headcam Kit and a more robust Professional Headcam system. The new software versions come with an updated pricing model with flexible options for fixed licenses. Faceware is also eliminating charging by the second to export data.
Analyzer 2.0
Faceware Analyzer is a stand-alone, single-camera facial tracking software application that converts any video of an actor's performance into facial motion files for use in Faceware Retargeter. Faceware says performance has been significantly updated in Analyzer 2.0, so that processing which took hours in version 1.0 now takes minutes. Analyzer's newly integrated core algorithms draw from  thousands of minutes of facial performance data taken from real actors from years of real projects in a wide variety of lighting and capturing conditions.
Analyzer 2.0 is now available in a basic Lite version (starting at $795 per seat) and a full-featured Pro version. The entry-level Lite version allows users to automatically track facial movements which can then be applied to CG face models using Faceware Retargeter. Any data that is exported out of Analyzer Lite will be compatible with the Lite and Pro versions of Retargeter.
With Analyzer Pro, users also have the ability to add shot-specific custom calibrations, import/export global actor data, and auto indicate tracking regions. For team settings, Analyzer Pro also features server and local licensing options, and scriptable batch functionality.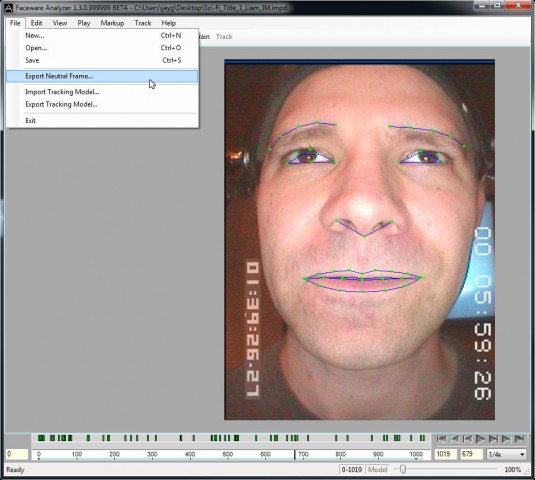 Retargeter 4.0
Announced just prior to Game Developers Conference 2013, Faceware Retargeter 4.0 is a plug-in for Autodesk animation tools (2011-2014 Max, Maya, MotionBuilder and Softimage) which utilizes the facial tracking data created in Analyzer to help animators create facial animation in a pose-based workflow. The update includes several new features such as one-button automatic solving; advanced character expression sets; visual tracking data; shared pose thumbnails; and batch processing. All together these additions focus on automating more of the facial motion capture process, as well as simplifying creative collaboration.
Retargeter 4.0 is also now available in two versions: a basic Lite version (starting at $395 per seat) and a feature-rich Pro version. Retargeter Lite allows users to automatically solve performances quickly onto their characters as well as reduce and smooth keyframes for optimal use. With Retargeter Pro, users have access to several additional features, including custom poses to improve solving, intelligent pose suggestions, shared pose libraries, columnized keyframe solving, and script functionality. Users of Retargeter Pro also have the ability to backup and restore jobs and retarget specific objects or attributes.
Faceware now offers two main hardware options for rent or purchase: the entry-level GoPro Headcam Kit and the Professional Headcam System.
The GoPro Headcam Kit offers a one-size-fits-all helmet with three camera-mounting options. It is designed for budget-conscious users wanting to get started in facial performance capture, including a license of Analyzer 2.0 Lite and Retargeter 4.0 Lite. It can also be combined with the GoPro iOS, Windows, and Android app for remote start and stop as well as remote monitoring and easy camera framing.
The Professional Headcam System (from $300 rental per day) is a professional-grade system that offers multiple helmet, padding, lens, mounting bar, and capture options for on-set adaptability. The entire system is lightweight for long-term actor comfort—just 15 ounces for the camera, mounting arm and helmet and 27 ounces for the camera belt, CCU, battery, and cabling. There are options for rental or purchase.