New products and bundles are a response to high demand for a shortcut to creating VR content.
Faceware Technologies today upgrades its markerless facial motion capture product line with new software and hardware, creating new bundles, and introducing a free version of its facial motion capture software.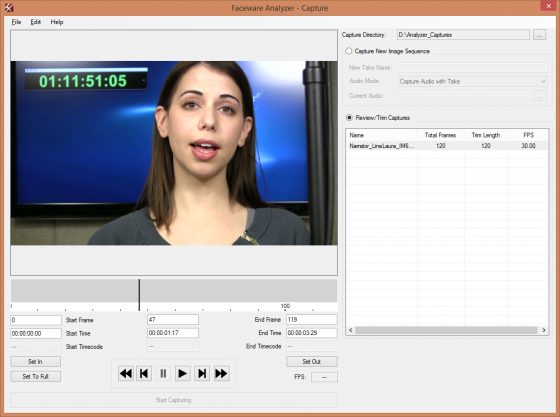 "The past year and a half has seen our software and hardware used on some pretty major games and films, like The Witcher 3, NBA2K16, Call of Duty: Advanced Warfare, Destiny, The Walk, and more," said Peter Busch, vice president of business development at Faceware Technologies. The company believes its product line refresh will help it gain new customers beyond gaming, into areas including animation and VR content creation.
Analyzer is Faceware's markerless facial motion tracking software, based on computer vision technology. It converts any video of an actor's facial performance into facial motion files for use in Retargeter, Faceware's companion software. Faceware has localized Analyzer into nine additional languages: Japanese, Chinese (Simplified), Korean, French, German, Spanish (Castilian), Russian, Polish and Arabic. Analyzer will now also support timecode, editing of in/out points of any new video, and the ability to capture live video straight into Analyzer's workflow using any of Faceware's hardware systems. All of these new features will be available in both Analyzer 3.0 Studio and Studio Plus versions.
Retargeter software maps facial motion capture data from Analyzer onto any facial rig through a plug-in for Autodesk's Maya, 3ds Max, and MotionBuilder. Like Analyzer, Retargeter 5.0 has been localized into nine additional languages and it now supports timecode. Other highlights include an updated shared pose library workflow as well as general speed improvements.  All of these new features will be available in both Studio and Studio Plus versions of Retargeter 5.0.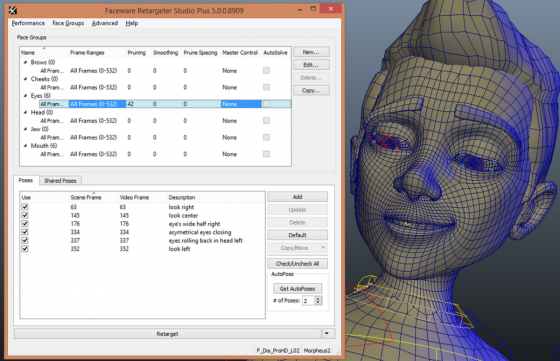 Faceware offers two hardware systems to complement its software. The Pro HD Tripod Camera System is Faceware's first non-headcam hardware system. It allows actors to act freely in front of a prosumer camera on a tripod. Faceware sells the Pro HD as a turnkey system that includes a HD prosumer camera, lights, tripod, and video converters. Faceware also sells a GoPro Desktop system, a package that includes all hardware necessary for facial motion capture, including lighting and video converters, to get video straight into the Faceware Live or Faceware Analyzer software packages. The GoPro system is designed to be used at an artist's desk; it comes as only hardware or as part of a bundle with Faceware software. The target market is indie game developers.
Faceware is also introducing a new Personal Learning Edition (PLE), offering a free license of Analyzer 3.0 and Retargeter 5.0 for individual, non-commercial use, including research. Faceware says the PLE includes all of the functionality of the Studio versions of Analyzer 3.0 and Retargeter 5.0 and will be kept on feature parity with the latest versions. For universities and schools, Analyzer 3.0 and Retargeter 5.0 will still be available in-lab and classroom licenses for adoption into relevant curriculums.   
What do we think?
It seems Faceware has a problem, a good problem: It can't keep up with demand. It has doubled its employee count in the last 12 months. The new bundles are in response to increased demand for complete systems to help shortcut the animation process. Insiders point to virtual reality as a big driver for their sales. Everybody in digital content creation is afraid the VR revolution is going to leave them behind, and they need all the help creating new content for all those head-mounted VR displays about to flood the market.
The video below is Faceware's new demo real. Take a look at how actors become animation characters.