This all-in-one device could even be used for gaming, let alone professional graphics work and server duty.  
By C. Robert Dow
Earlier this year Eurocom launched the P5 Pro line. This 15.3-inch desktop replacement is quite a versatile platform. Eurocom offers this mobile workstation in multiple forms:
A gaming laptop equipped with a Core i7 and GTX 980M GPU;
A mobile workstation which includes an option for a Core i7-4960X Extreme Edition or XEON E5-2600 v2 with Nvidia Quadro graphics or
A mobile server with a 4-core/8 threads Intel XEON E3-1200 v3 processor with 5TB of storage with four physical drives (2x M.2 + 2x 2.5″).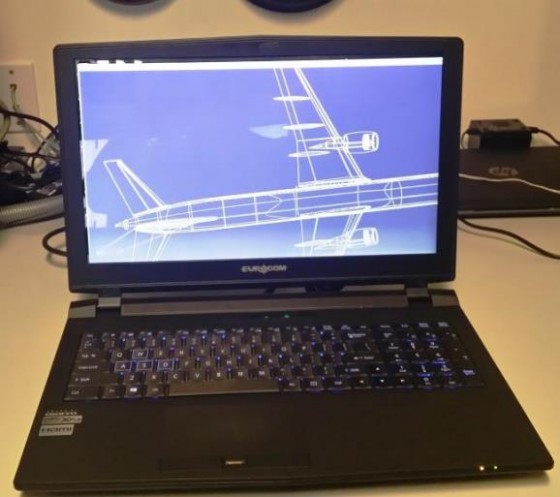 Eurocom sent a workstation configuration of the P5, the Eurocom P5 Pro SE. It came with impressive technology, starting with an Intel Xeon E3-1271 processor running at 3.6 GHz with a top of the line Nvidia Quadro K5100M GPU. The Quadro pushes one of the most impressive laptop monitors we have seen, a 15.6-inch 4K QFHD 3840 x 2160 display. Our P5 came with a 1 Terabyte drive, 32GB of RAM and runs Windows 8.1.
There are four USB 3.0 ports, 2 DisplayPorts, and a HDMI slot. Eurocom placed these ports in the back of the machine which we prefer because it gives the user the option to place the addition monitors on either side of the laptop without running the cord around the desk. The unit also has a built-in ExpressCard 34/54 slot.
Another great feature of the P5 is the Onkyo sound system, it's not expected to find such audio options available in a workstation, but given this system can also be configured as a gaming platform it is understandable.
We expected to see outstanding performance from the P5 Pro SE and it definitely did not disappoint. We stacked the Eurocom up against HP Zbook 15u with an Intel Core-i7-5600U 2.6GHz and AMD FirePro M4170, and a Dell M3800 with an Intel Core i7-4702HQ 2.2 GHz and Nvidia K1100M. The HP has a 1920 x 1800 display with the Dell M3800 running a 3200×1800 display. We realize this is not a direct apples-to-apples test but we wanted to give the Eurocom a bar to jump over.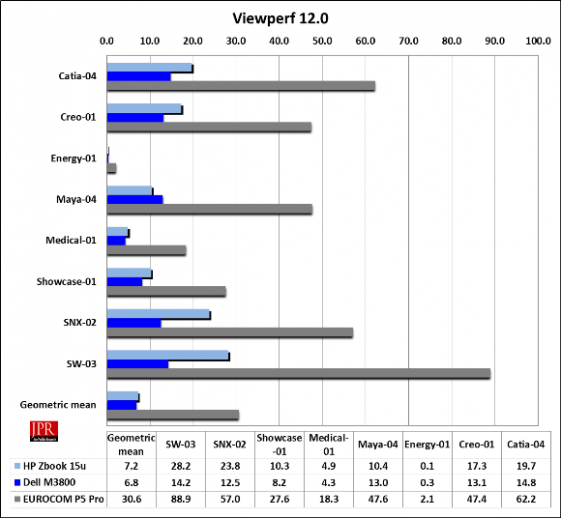 We expected to see this type of performance from the P5 Pro and it did not disappoint.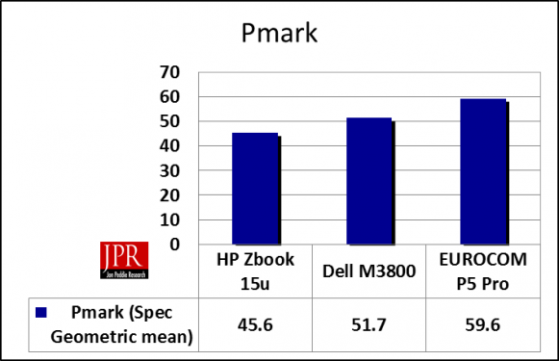 The performance of the P5 Pro was so good that it offset the total cost of the system. GPUs perform so well these days usually we see a benefit for mainstream systems; however, the P5 Pro is so loaded when it comes to processing power that it offset the cost disadvantage. We even did a Pmark calculation, based on the following data:

What do we think?
The Eurocom P5 platform is a quite versatile box, you can choose between an i3 or the latest generation Haswell Xeon. We were very impressed with the performance. Eurocom hand-tunes their systems for maximum performance. Overclocking? Yes, but with considerable care and testing. The next result is one of the most powerful machines we have ever had the opportunity to play with.
However, it was also one of the heaviest machines, coming in at 7.5 pounds, as compared to 4.2 pounds for the M3800 and Zbook 15u.
L. Robert "Master Chief" Dow is senior benchmark and research analyst at Jon Peddie Research.