A workstation hybrid, meant for the desktop but sized like a mobile. 
By Robert Dow
If bigger is better, Eurocom should win a prize for introducing the Sky X9. The Sky X9 is the workstation version of the SkyDLX7. The Sky X9 is a desktop replacement workstation with all the power and options of a true desktop. The Eurocom Sky X9 runs desktop-class CPUs and GPUs, supports 4K display to a 17.3-inch monitor, and can be stuffed with up to 5 terabytes of storage and 64 gigabytes of memory.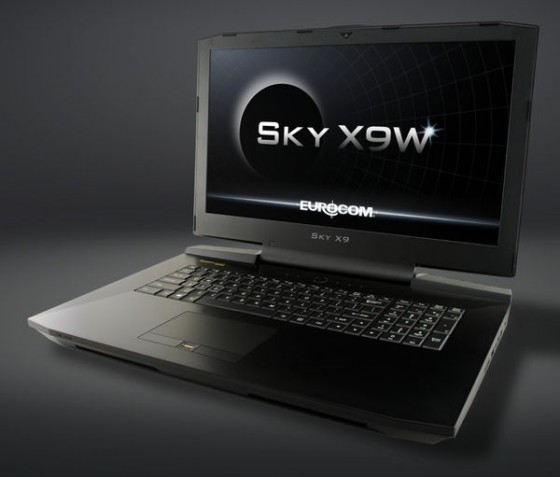 Two strong men with a hydraulic assisted dolly wheeled the Sky X9 into our lab and hefted it up on the bench; the bench groaned but held up. And then we turned it on—wow!
Eurocom uses the Intel Z170 chipset with socket LGA 1151, allowing it to support Intel Skylake processors up to Core i7-6700K, which is the processor our test machine is running at 4 GHz. There is also an MXM slot allowing support for Nvidia GeForce and Quadro graphics. Our Sky X9 is equipped with a Maxwell-based Quadro M5000M, the high-end GPU built to pair with Intel Skylake processors. The Sky X9 initially ships with an Ultra High Definition (UHD) monitor with a resolution of 3840 × 2160, and supports external 4K displays as well.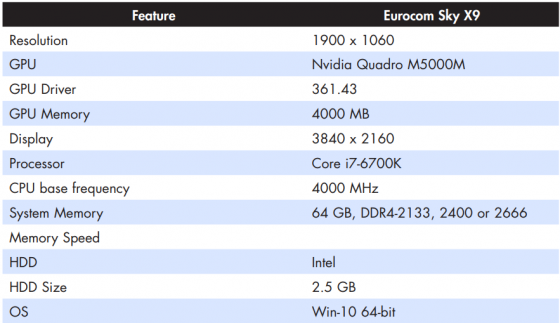 The Intel Core i7-6700K has 4 cores and 8 threads running at 4 GHz, with turbo boost up to 4.2 GHz. The Intel Core i7-6700K is over-clockable for maximum performance. Five terabytes of storage are possible through four storage drives for a wide variety of upgrade options. Two 9.5-mm HDD or SSD bays and two M.2 SSD PCIe x4 SATA drives are supported with RAID 0/1/5/10 availability.
Our system has 2.5 TB of storage. The Sky 9 is another example of PC companies starting to utilize the updated Skylake processors in their new SKUs. Eurocom Sky X9 is built to support the horsepower in the specs, with high-speed fans and high-capacity copper heatsinks to keep both graphics and processing within operating temperature range.
The Eurocom Sky X9 is equipped with a plethora of connectivity ports including USB 3.1, MiniDP 1.2, HDMI 2, and USB 3.0, allowing the Sky X9 to be integrated seamlessly into any environment.
Physically, it is imposing—it's the Michael Oher of laptops/desktop replacements—but once you get passed its 17 x 12 x 2.25 frame, the box itself is attractive. It's jet black with a full backlit keyboard (back-lit in blue). Its peeka-boo logo backlighting on the cover gives it a netherworld futuristic look. The built-in Forster speakers (2.2 W) + subwoofer (2.5 W) add some length behind the monitor (when closed). But it's nice to have quality sound in a laptop; the speakers are well worth the space.
Full specs and options
Chipset: Intel Z170 Express (Skylake)

Display interface: supports four external monitors via 2x DP 1.2, 1x HDMI 2.0, and 1x HDMI 2.0 or DP1.2 (via USB 3.1 type C port); Nvidia Surround View

Storage: up to 5 TB with four drives; 2x HDD/SSD (SATA3) + 2x M.2 PCIe Gen3 x4/SATA3; RAID 0/1/5/10; supports NVMe SSDs

Communications: two 1-Gb LAN RJ-45 ports Killer E2400 + M.2 WLAN/ Bluetooth; Killer DoubleShot X3

Card Reader: 6-in-1 MMC/RSMMC/ SD/miniSD/SDHC/SDXC up to UHS-II

Keyboard: illuminated, backlit with customizable seven colors • Security: TPM 2.0, Fingerprint and Kensington Lock

Audio system: Sound Blaster X-Fi MB5; external 7.1CH audio output; headphone out, microphone in, S/ PDIF and line-in port; two built-in Forster speakers (2.2 W) + subwoofer (2.5 W)

Ports: 1x USB 3.1 type C (HDMI 2.0/ DP 1.2/Thunderbolt 3); 2x miniDP 1.2; 1x HDMI 2.0; 5x USB 3.0 (1x Powered USB AC/DC); S/PDIF; headphone; mic; line-in; 2x RJ45 (LAN)

Weight and dimensions: 4.8 kg/10.56 pounds; W × D × H 428 × 308 × 45 mm/17.12 × 12.32 × 1.8 inch
Benchmarks
We tried out the Sky X9 with various tests. The Skylake Core i7-6700K and the Nvidia Quadro M5000M proved quite a team and produced some impressive scores.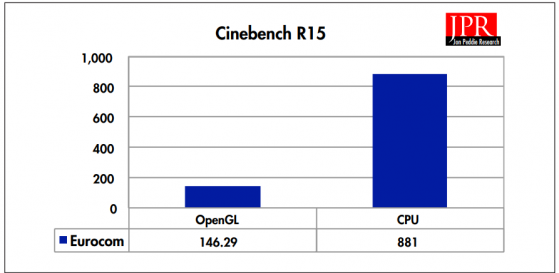 The new SPECwpc V2.0 benchmark measures all key aspects of workstation performance based on diverse professional applications. Members of the SPECwpc project group include AMD, Dell, Fujitsu, HP, Intel, Lenovo, Micron, Nvidia, and VMware.
More than 30 workloads in the SPECwpc V2.0 benchmark test CPU, graphics, I/O, and memory bandwidth. The tests are divided by application categories that include media and entertainment (3D animation, rendering), product development (CAD/CAM/ CAE), life sciences (medical, molecular), financial services, energy, and general operations. Individual scores are generated for each test and a composite score for each category.

Cinebench is a real-world cross-platform test suite that evaluates your computer's performance capabilities. Cinebench is based on Maxon's animation software Cinema 4D 3D content creation. The Sky X9 is probably the most powerful mobile workstation in the world right now, as well as a weight training device. With a 17-inch ultrahigh-res screen, Quadro M5000M, and enough memory to store gigantic models, this is a small-form-factor workstation on steroids.
What do we think?
More and more impressive workstations are coming out using Skylake and Nvidia Maxwell architecture for the Quadro line. Eurocom is well known for making beastly laptops, and the Sky X9 is no exception. Be warned that packing around a 8.5-pound desktop replacement (and its 3-pound power supply, don't forget) is no picnic; you have to have a big enough backpack to put it in, strong enough quads, and mindful determination, but when called upon, the Sky X9 has the power and specs to get almost any job done, and that is invaluable.