Using Frame as a graphics workstation-on-demand system runs about $4 an hour.
When we last wrote about Frame (founded as Mainframe 2) in June 2015, it had just secured $10 million in new venture capital funding. Now the second-generation Software-as-a-Service vendor is introducing Frame Pro 64GB, a high-performance version of its product aimed at professional engineering, simulation, and rendering.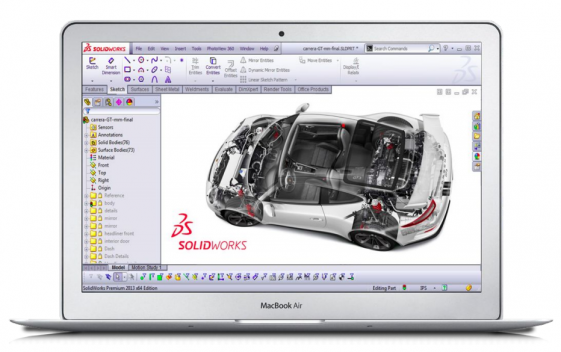 Frame says Pro 64GB is optimized for modern, multi-core simulation and rendering applications. Frame specifically mentions products including Dassault Systèmes Catia and SolidWorks, Siemens PLM Teamcenter and Solid Edge, Bentley Systems MicroStation, Ansys Workbench, and more as available to run in the product.
Each installation of Frame Pro provides two Intel Xeon CPUs, 4 Nvidia Grid GPUs, 64GB of memory, and an SSD flash drive in a cloud-based system; Frame says access to this high-performance workstation on-demand is available for under $4 per hour.

This new Pro 64GB version extends the line of Frame configurations, which now range from Air 4GB, a basic virtual computer for running applications like Microsoft Office, to Pro 64GB.
"By using Frame, I get the juice I need when I need it, without cooling fans that sound like jet engines taking off in my office?, all with direct access to our storage on Dropbox and Box,"? said Adam O?'Hern, Head of Design at Mechanical Color. "?When I don't run apps, I don't have to pay for them. Frame lets me use my MacBook the way I used to use the giant PC tower in my closet. There's no going back."?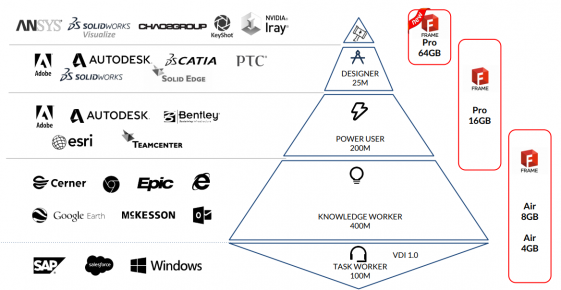 What do we think?
Frame has been busy, and it shows. The infusion of VC money last summer allowed it to expand its line to the high end, and to poach some new talent to run the company. Former Nvidia executives Jeff Brown (now Frame president) and Justin Boitano (now VP marketing), and former NComputing executive Carsten Puls (now Frame chief product officer) bring additional firepower to the company. SolidWorks CEO Gian Paolo Bassi called Frame Pro 64GB "My favorite feature of SolidWorks 2016." Those of us who remember a demo attempting to show SolidWorks running in the cloud in 2010 can appreciate how much Bassi's endorsement means.
We call this second-generation software-as-a-service because of one meaningful distinction. The first generation of SaaS was one vendor providing you their product on the cloud. Frame allows any vendor to deliver their software as SaaS, and you decide how much hardware horsepower supports your software. The economics of virtualized software use are compelling, and not just for engineering firms wanting to run instances of Ansys Workbench or Luxion Keyshot for $4 per hour. Jostens, the largest publisher of high school yearbooks in the U.S., provides Adobe Photoshop and InDesign to high schools all over the country using Frame.
If you want to give it a spin, there is a online trial of SolidWorks running on Frame available: www.fra.me/solidworks. I ran it on a Chromebook 4500 miles from the nearest Frame data center, with a 25mbps Internet connection. Even though the system warned me performance would be slow, I was impressed with what I could do.