Siemens PLM, Local Motors and Edison2 got together at Solid Edge University in June; this project is the result.  
Edison2 is an upstart automotive company intent on redefining the American driving experience. An Edison2 entry won the recent $10 Automotive X Prize with a multi-passenger internal combustion engine that exceeded 100 mph; now the company is designing an electric commuter car called the VLC—Very Light Car. At the recent Solid Edge University event in Nashville, Edison2 founder and CEO Oliver Kuttner met Jay Rogers, CEO of engineering crowdsourcing and custom car manufacturer Local Motors; both companies use Siemens PLM's Solid Edge 3D CAD. Now the two are teaming up in a design competition.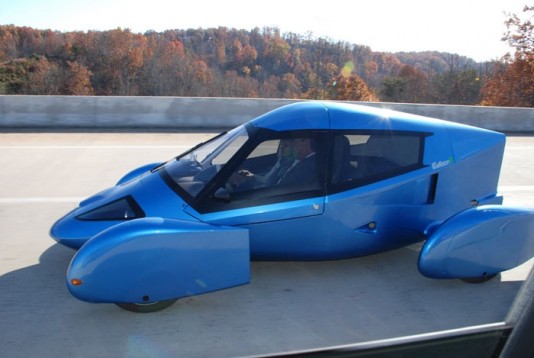 The design challenge is to create an aerodynamic new door handle for Edison2's VLC Participants can use their existing Solid Edge software or download a free trial of Solid Edge Design1 software, which is being offered by Local Motors for the duration of the challenge. Solid Edge Design1 is based on Siemens PLM Software's Solid Edge software and makes professional-level computer-aided design (CAD) available to Local Motors design and engineering enthusiasts. Participants will have a chance to win $6,000 in prizes.
Because of its advanced, streamlined shape, the VLC requires an uncommon door design which opens first out, then swings up. The door will be counterbalanced but will not have power assist. Using the free trial of Solid Edge Design1 software, entrants will be asked to design a door handle which allows the driver to easily open and swing up the door prior to ingress and to swing down and close the door after egress. Thus, the handle must be rigid to pull and lift to open the door, and to bring down and push to close it. And, it must be able to do this while being as light and aerodynamic as possible. Lastly, the door handle must operate the latch.
Edison2 says the breakthrough efficiency of the Very Light Car comes from the fundamental principles of light weight and low aerodynamic drag. With the lowest coefficient of drag, 0.160, ever recorded at the GM Aero Lab (for a multi-passenger vehicle), and with the best coast-down numbers ever demonstrated at Chrysler's Chelsea Proving Grounds, the VLC simply requires little energy to move. For example, only 5.3 hp is needed to cruise at 60 mph.
While Edison2 won the X Prize with an internal combustion engine, the electric VLC has set a new standard for electric car efficiency. Needing only a 10.5 kWh battery pack to achieve a 100 mile range, the eVLC recorded 245 MPGe (EPA combined), compared to 99 MPGe of the Nissan Leaf. The battery pack fully recharges in less than 7 hours, using regular household 110V outlet.
The contest began August 1, and continues through Sunday, August 12, 2012. Winners will be announced August 23. Top three prizes of $2,500, $2,000, and $1,500 will be awarded.