Sales of 3D printer units more than doubled from a year earlier.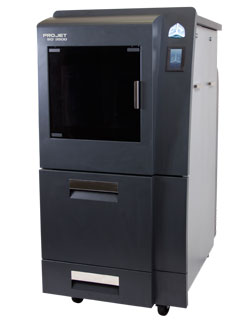 3D Systems Corporation (NYSE: DDD) has released its second quarter results, with revenue up 52% from a year earlier. While much of the growth came through acquisition, 3D Systems says organic revenue—extracting new revenue sources—was up 20% from 2Q2011.
Total revenue was $83.6 million, led by a 112% increase in printer units sold. The sales backlog at the end of the quarter was up 28% sequentially from 1Q12. Company stock traded up 4% (to 38.50) after the report.
During the quarter 3D Systems closed on four recent acquisitions as it continues using the capital from a secondary issue of stock to fuel growth.  The company also started commercial shipment of its new Cube home 3D printer in late May; the company said initial orders topped the upper range of internal expectations. Sales from the Cubify.com division are not expected to be material (contribute at least 5% to revenue) in 2012.
Product revenue (new printers, materials) was $52.32 million, up 60% from 2Q11. 3D printer units sold more than doubled compared to the 2011 period, and accounted for a $9.9 million revenue increase. Print materials revenue grew 60% to a new record of $26.2 million, driven by strong printer unit sales. Services revenue was $31.3 million, up 39% from a year earlier and included $20.5 million of on-demand parts.
Net income for the quarter ending June 30, 2012 was $8.3 million, down 37% from a year earlier. The company sites increased expenses from acquisition activity, including increased spending on marketing and R&D.
Other companies we cover have raised guidance for all of 2012 during their second quarter reports, but not 3D Systems. It affirms its initial annual guidance for 2012 of revenue to fall between $330 million and $360 million.
Cash per share on June 30, 2012 was $3.23, up sharply from three months earlier at $1.18 as the company absorbed the costs of recent acquisitions.
Three charts follow, supplied by 3D Systems.